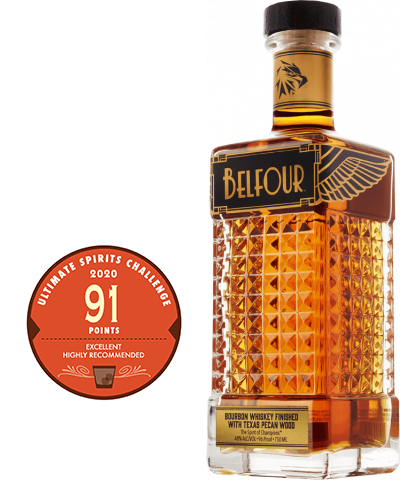 This is a special one for me, as this new distillery is from one of my favorite hockey players, Ed "Eddie The Eagle" Belfour who played for my favorite hockey team the Chicago Blackhawks.
Ultra-Premium Whiskey Brand Debuts with Three Products in Illinois and Texas
DALLAS (Oct. 1, 2019) – Belfour Spirits proudly announces the launch of its ultra-premium whiskey brand and family of products, The Spirit of Champions™. The company is founded and led by Hockey Hall of Famer, Stanley Cup winner and Olympian Ed Belfour who teamed up with his son and daughter to translate his on-ice intensity into a new passion: hand-crafting spirits with unique character for whiskey aficionados and cocktail enthusiasts.
"There are a lucky few who do what they love, not once in a lifetime, but twice," said Ed Belfour, President and CEO of Belfour Spirits, who retired in 2008 after 21 years of playing professional hockey. "For me, this is the perfect career, post hockey. There are so many similarities in this business to the sport – the competition, the art of distilling, the creativity in barrel selection, the dedication required, the camaraderie of the team. I feel blessed to work alongside my family and work to build what I hope is a second legacy for the Belfour name."
The Belfour Spirits' debut has been marked with high regards already from industry tasters, including Mark Gillespie of WhiskyCast, who rated the Bourbon Whiskey Finished with Texas Pecan Wood a 93 and the Rye Whiskey a 91, both out of 100 points.
A Five-Year Training Camp
For the past five years, two generations of the Belfour family (including Ed, son Dayn, 30, and daughter Reaghan, 27) have been working toward one goal: to produce a whiskey worthy of a championship; one that tastes as luxurious as its unique packaging: a 1920s-inspired, decanter-like bottle with a pattern that resembles cut crystal.
But additional generations of Belfours had a hand in this in the 1930s. "My grandparents in Canada were moonshiners, so we like to think this was our destiny," Ed says.
Applying lessons learned by both father and son during their respective, professional hockey careers and industry education from attending two whiskey schools (Canadian Craft Distilling Institute in Kelowna, B.C., and Moonshine University in Louisville, Ky.), they have used teamwork, patience and attention to detail to distill 1,700 barrels of whiskey to date.
From Barrel to Bottle
All but 12 of its 1,700 barrels were distilled and continue to age in Statesville, N.C., by Ed and Dayn, in partnership with Southern Distilling.
They made the other 12 barrels first during Dayn's internship at Woody Creek Distillery in Basalt, Colo. Those barrels aged the brand's Limited Edition Straight Rye Whiskey. Fewer than 2,700 bottles exist and all are presented in a one-of-a-kind collector's bottle and box.
"We meticulously handcraft in small batches, paying attention to the art of barrel selection, charring and blending, and marrying that with the science of fermentation, distillation and aging," said Dayn Belfour, vice president of distilling and production for Belfour Spirits, who played professional hockey as a goalie until he was 26. "Our whiskey is intentionally well balanced, not too heavy with sweet or spice, and every bottle is infused with our family's shared, immense passion."
Three spirits are included in the brand's debut:
47% ABV, 94 Proof, 750 ML
A nontraditional tasting Rye Whiskey, this spirit honors a nostalgic mash bill profile and has unexpected flavors for its kind.
Appearance: Golden honey, medium amber
Nose: A burnt sea salted vanilla caramel aroma, leather
Taste: Sweet caramel, butterscotch, cinnamon
Finish: Full-bodied velvety warmth that lingers with a peppermint finish
Bourbon Whiskey Finished With Texas Pecan Wood
46% ABV, 92 Proof, 750 ML
The majestic beauty of a 300-year-old, oversized pecan tree on the old Belfour ranch in North Texas inspired this unique spirit. This Bourbon Whiskey aged in American white oak barrels then spent extra time mellowing with added staves of Texas pecan wood, imparting subtle notes of brown sugar and heavy notes of smoky roasted pecan.
Appearance: Golden honey, light amber
Nose: Nutty, butterscotch, crème brulee
Taste: Smoky vanilla, molasses
Finish: Long mellow warmth with a rich mouthfeel layered with vanilla
Limited Edition Straight Rye Whiskey
50% ABV, 100 Proof, 750 ML
This Limited Edition is offered at 100 proof and presented in an autographed collector's bottle, featuring a 1 oz. chalice cork that is plated in sterling silver.
Appearance: Golden honey, light amber
Nose: Smoke pear, plum, dark chocolate
Taste: Light almond, white pepper, pear, apple
Finish: Elegant lingering smoke, lasting warmth
Southern Glazer's Wine & Spirits will distribute Belfour Spirits in Illinois and Texas beginning Oct. 1, 2019. Consumers are encouraged to visit their local fine spirits stores and restaurants to inquire about the availability of Belfour Spirits.
# # #
About Belfour Spirits
Led by Hockey Hall of Famer Ed Belfour, Belfour Spirits is an ultra-premium whiskey producer known for its spirits' unique character and stunning packaging. In 2014, the Belfour family began their journey to hand craft exceptionally smooth and well-balanced whiskey made from the finest ingredients. Today, the company has distilled and is aging more than 1,700 barrels of whiskey. Belfour Spirits distributes in Illinois and Texas with additional markets expected to follow in 2020. To learn more, visit belfourspirits.com.
---
Please follow and like us: