One of the most sought after bottles for a Bourbon aficionado is any one of the rare family collection from the Old Rip Van Winkle Distillery. They are hard to find, as they only releases between 6,000 and 7,000 cases per year and most liquor stores are lucky if they get even one bottle. This "allocation" makes them very rare and also expensive as most bottles will be priced much, much higher than their MSRP–Manufacturer's Suggested Retail Price.
In the bourbon world, price does not equate to quality, generally it is based on scarcity. This is very true with all the bottles from this collection. Not to say the Bourbon is bad or even mediocre, quite the opposite, Jullian the third, grandson of Pappy, hand selects each batch to be bottled so like any curated release, it will always be a quality (i.e. tasty) release. However, most liquor stores will price their bottle ("bottles" if they are lucky) well above their list price, the average range is around $1,600 per bottle and some listed around $6,000!
Many liquor stores, will try to be "equitable" with their allotment of Pappy bottles, as well as other rare releases from other distilleries, by raffling them off or offering them up for charity events. Our local liquor store gives out one ticket for each bottle of Whisk(e)y purchased at their store starting in October and then on December 1st they hold a big drawing where they pull tickets from a fish bowl. If your number is drawn you get to pick from all the rare bottles they received throughout the year and get to purchase them at MSRP. Our first drawing Dawn and I came away with George T. Stagg which turned out to be our very favorite Bourbon to date.
---
Below you will find the complete collection, listed by age, from the Old Rip Van Winkle Distillery. (Images and descriptions from their website)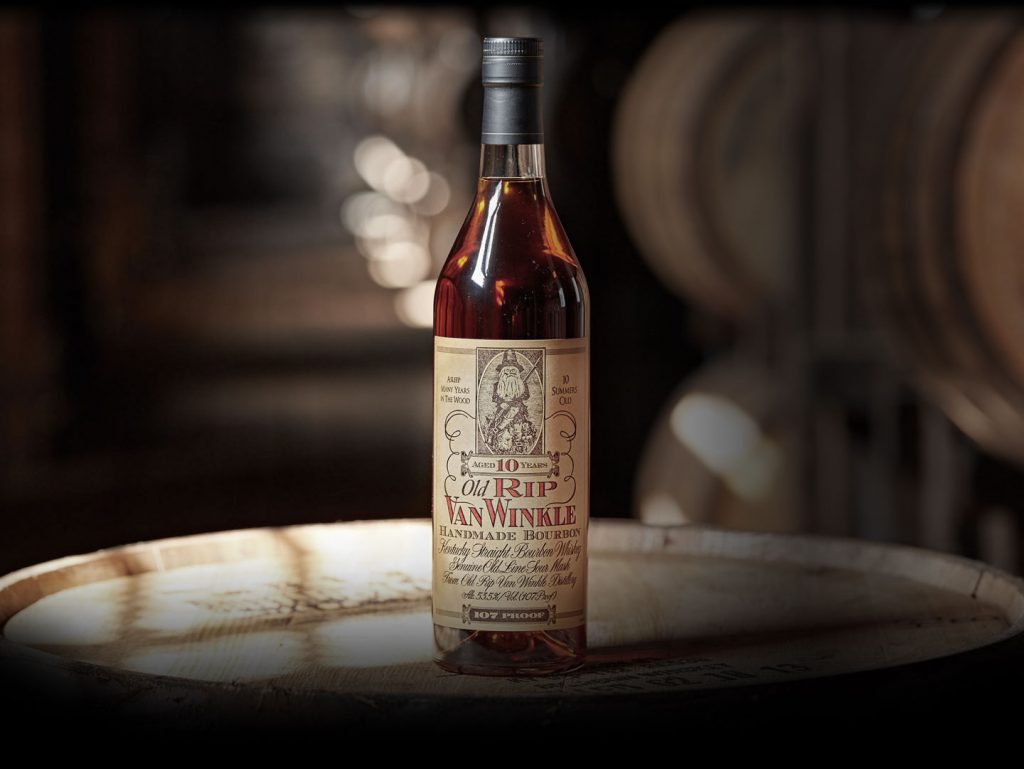 Old Rip Van Winkle
10yr 107 Proof
$69.99 MSRP
This wonderful bourbon is bottled as close to barrel proof as possible. We add just a splash of our Kentucky limestone well-water when we empty the barrels for bottling. Thus, this whiskey is as smooth as any you will find.
Tasting Notes
See a rich, copper color. Smell enticingly sweet, spicy, caramel-nut-fudge aromas. Enjoy a fruity, medium-to full-bodied palate with intense dried fruit and toasted nuts notes. Each sip finishes with a very long, bold wave of peppery brown spices, floral honey and charred barrel flavors that balance the weight of the alcohol. It's a big, bold, aged bourbon that has great balance for its high proof and flavor.
---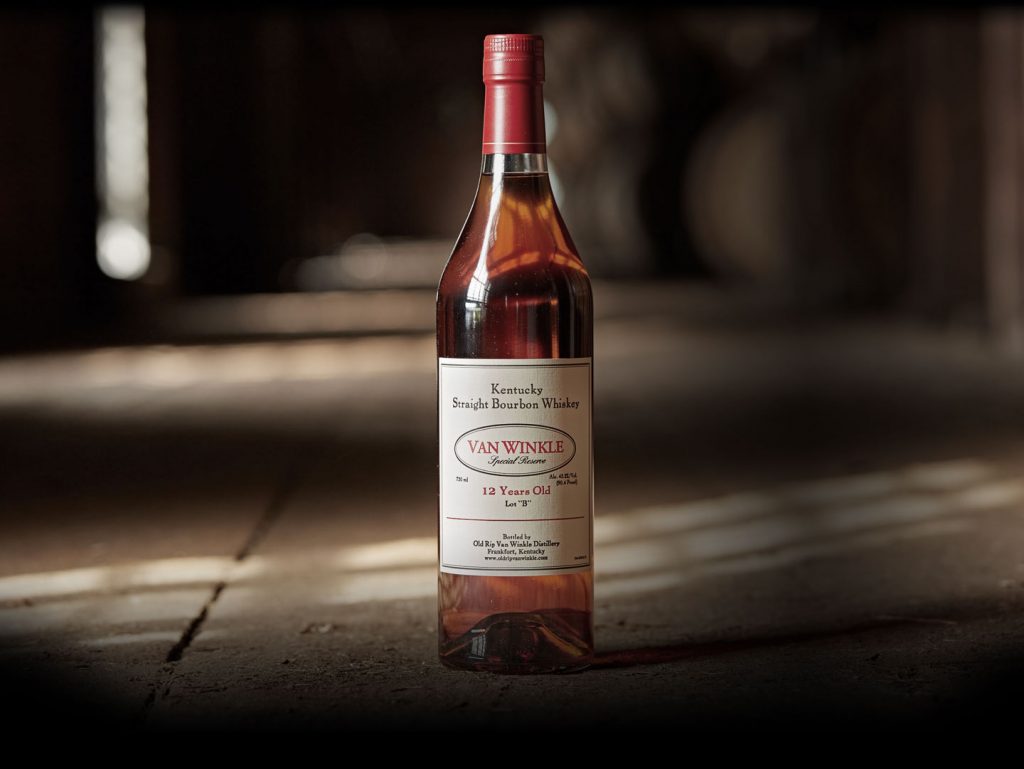 Van Winkle Special Reserve
12yr 90.4 Proof
$79.99 MSRP
Van Winkle Special Reserve is the perfect combination of age and proof. This sweet, full-bodied whiskey has been described by some as "nectar." The 12 years of aging and medium proof seem to be just right in creating a very pleasant drink of whiskey. This fine bourbon can compete with any excellent cognac as an after-dinner drink. The overall impression is rich and deep.
Tasting Notes
See a brilliant, amber-orange color. Smell luscious, complex toffee. Taste a round, supple entry, leading to a dry, expansive, medium body. Enjoy notes of caramel, nuts, and brown spices with a lengthy, enveloping finish. It's an outrageously smooth and decadent bourbon.
---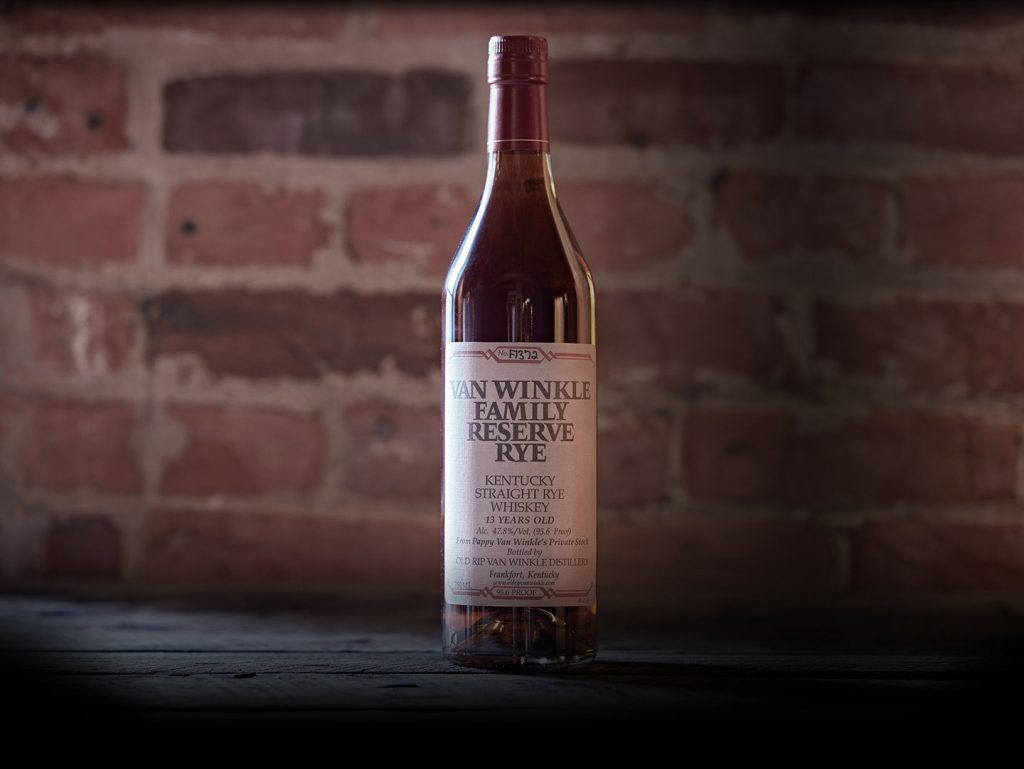 Van Winkle Family Reserve Rye
13yr 95.6 Proof
$119.99 MSRP
Until now, most rye whiskeys were 4 years old or younger. This 13-year rye is one of the oldest rye whiskeys available today. The maturity it has achieved while aging is quite obvious as you take the first sip. Rye whiskey lovers who try this bottling will never look back at the younger versions again.
Tasting Notes
See the deep, tawny, copper color. Smell the powerful caramel, spice, sweet-tobacco aromas. Enjoy a smooth, broad entry, leading to a medium-to full-bodied palate with sweet toffee, roasted nut and leather notes. Finish with a wave of white pepper, spice and long-lingering dried fruit flavors.
---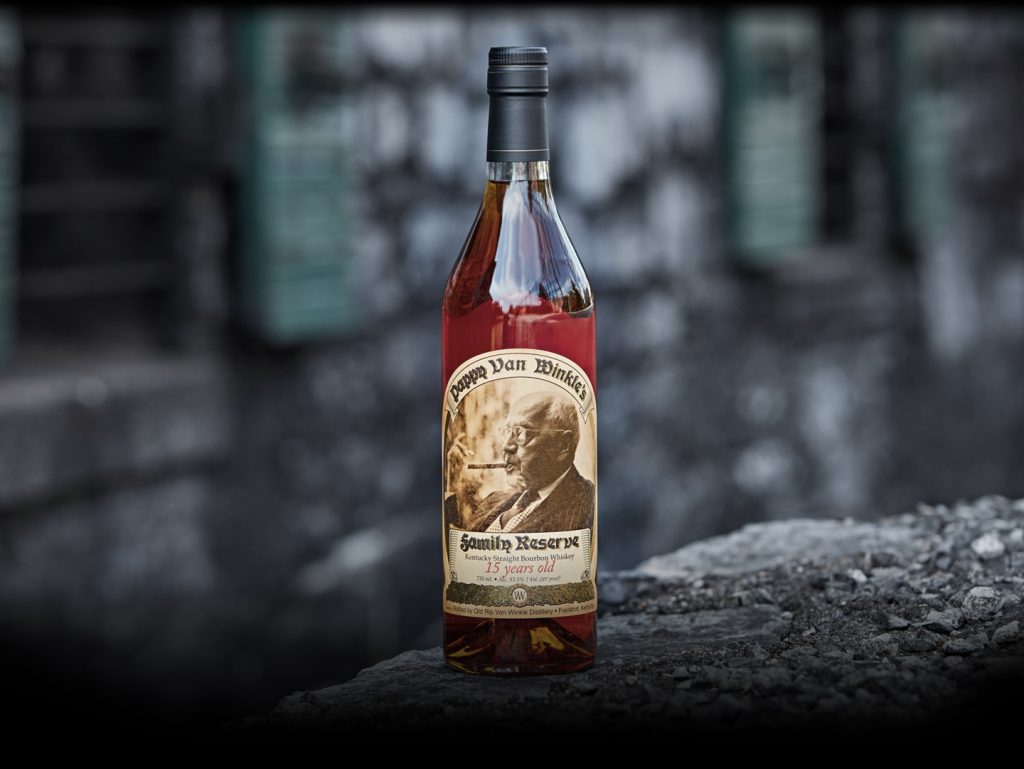 Pappy Van Winkle's Family Reserve
15yr 107 Poof
$119.99 MSRP
This bourbon was crafted according to our exclusive family wheated recipe. The smooth, oak flavor blends well with the barrel proof. Selected from barrels in the heart of our Kentucky warehouse, this bourbon has remained untouched for 15 years and unhurried by time.
Tasting Notes
See a hazy, copper color. Taste a rich, supple entry, leading to a decadent, huge, full-bodied palate with intense caramel, toffee and peppery brown spice flavors. Then, enjoy a finish with an extreme, long, complex, evolving fade of spice and wood notes. Experts deem it a seductive, exotic and virtually flawless bourbon.
---
Pappy Van Winkle's Family Reserve
20yr 90.4 Proof
$199.99 MSRP
No other bourbon today can stand 20 years of aging, but this bourbon does it with style. "Pappy" Van Winkle was a true character. This bourbon, like "Pappy," is full of personality that makes it a very special whiskey, and some might argue, one of our best bourbons. It has been put in the class of a fine after-dinner cognac.
Tasting Notes
See a dark amber and dark orange cast. This full bodied bourbon is reminiscent of oiled leather, smoke, minerals, coffee and cigar boxes. Take in the endless ranges of aromatics and flavors. Enjoy the infinite finish.
---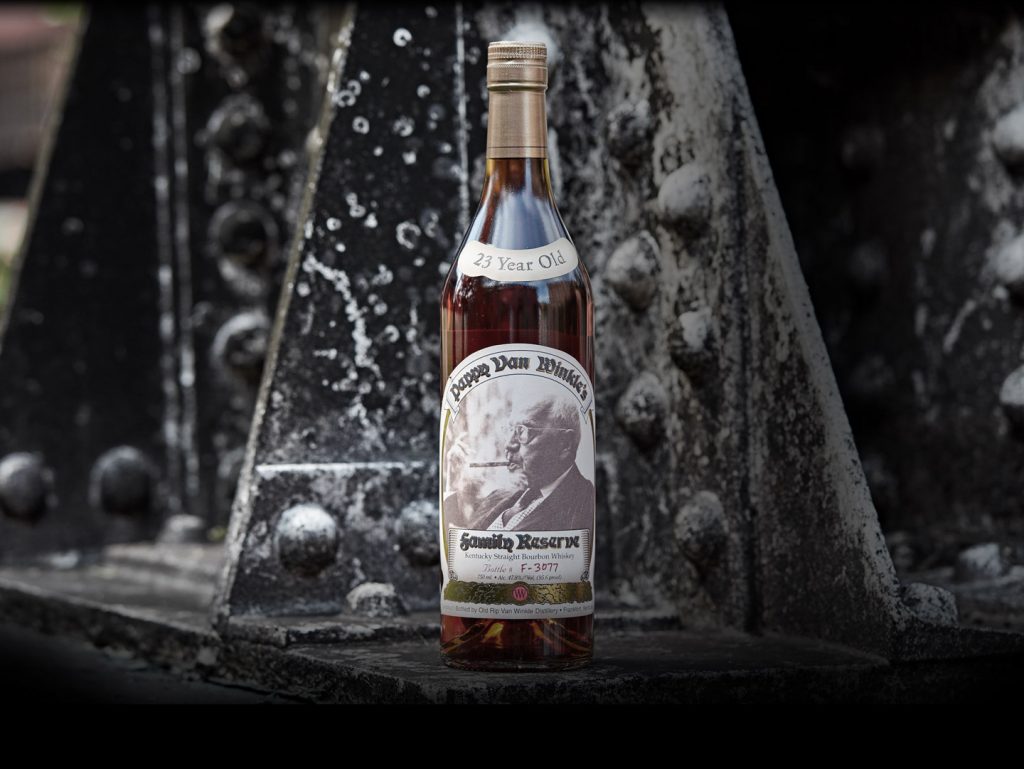 Pappy Van Winkle's Family Reserve
23yr 95.6 Proof
$299.99 MSRP
Only the most careful and expensive distilling method can be used to create a whiskey as special as this one. These barrels were carefully selected from the heart of the warehouse for an added three years of aging. This signature whiskey is best enjoyed neat. Any ice or water will dilute its uniqueness.
Tasting Notes
See a deep amber red. Taste the various hints of caramel, ripe apples, cherries, oak wood and tobacco with a hint of chocolate. This bourbon finishes with a long-lasting and pleasant taste. Starts with a lot of wood flavors but leads to a nice sweet caramel finish.
---
Please follow and like us: