Thirsty Countries
https://vinepair.com/booze-news/countries-drink-most-bourbon-top-25-2018/
According to the Distilled Spirits Council (DISCUS), a national trade association that represents producers and marketers of distilled spirits in the U.S., Spain's love for bourbon is top in the world.

At least that's what the numbers for 2018 show. Coming in as the top importers of bourbon are the Spanish, with $88 Million worth of America's iconic spirit. The Japanese claimed second place with $66 Million in imports, and the Australians are third, spending over $55 Million on the brown liquor.

The U.S.'s total bourbon exports for 2018 netted $366 Million, with the total exports of other American whiskey products adding an additional $822 Million.
Read on below to find out what other countries made the Top 25.
| | | |
| --- | --- | --- |
| Rank | Country | Export Value |
| 1 | Spain | $ 88,680,946 |
| 2 | Japan | $ 66,030,169 |
| 3 | Australia | $ 55,752,691 |
| 4 | Canada | $ 36,553,489 |
| 5 | United Kingdom | $ 21,432,141 |
| 6 | Germany | $ 19,036,500 |
| 7 | Netherlands | $ 14,162,689 |
| 8 | Mexico | $ 12,245,944 |
| 9 | New Zealand | $ 11,383,847 |
| 10 | Singapore | $ 5,873,197 |
| 11 | France | $ 5,805,015 |
| 12 | Italy | $ 3,014,704 |
| 13 | Latvia | $ 2,812,239 |
| 14 | China | $ 2,347,693 |
| 15 | Belgium | $ 2,084,016 |
| 16 | South Korea | $ 2,062,882 |
| 17 | Vietnam | $ 1,930,382 |
| 18 | Panama | $ 1,196,884 |
| 19 | Taiwan | $ 1,172,572 |
| 20 | Brazil | $ 979,860 |
| 21 | Czech Republic | $ 923,900 |
| 22 | U.A.E. | $ 819,862 |
| 23 | South Africa | $ 705,644 |
| 24 | Argentina | $ 698,524 |
| 25 | Chile | $ 547,270 |
Compare this to the map of who drank Whiskeys of all types from 2016: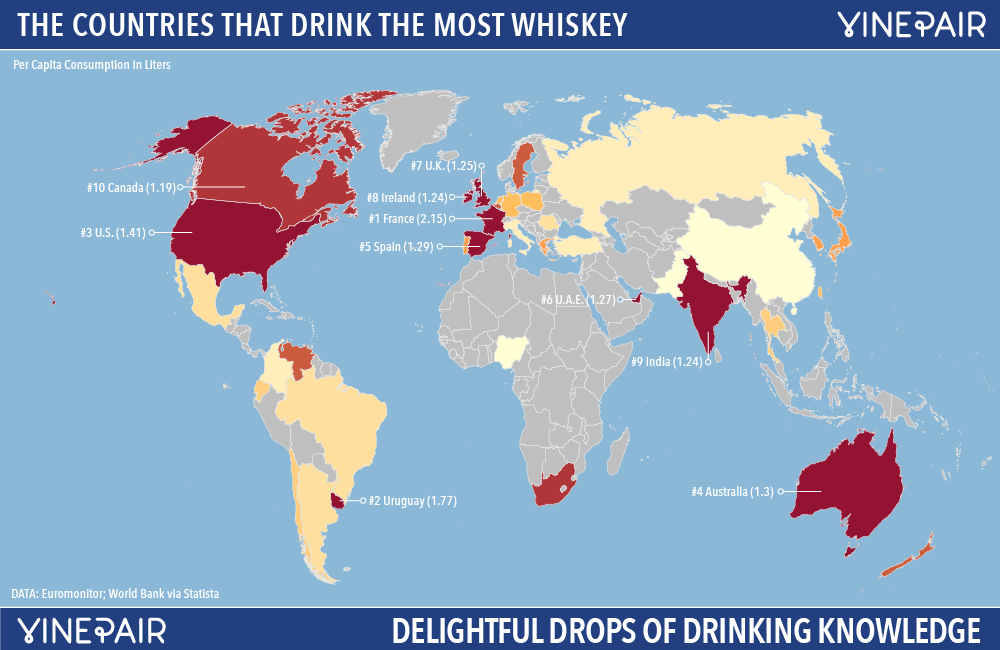 Please follow and like us: