---
Hotel Tango Distillery and Bloomington's Cardinal Spirits announced on, of all things, Friday the 13th. that they are manufacturing their own hand cleaners and donating them where there is need.

Nicholas Ladig, Chief Sales Officer, stated that the management of Hotel Tango held a meeting and agreed to use their facility, that makes high proof spirits (up to 190 proof), to make 95% (190 proof) ethanol hand sanitizer.
Tony Fleming, Production Manager, was changed in creating the recipe for the hand cleaner. They mix water and Xanthan Gum together to make the final product thicker and easier to spread on the hands, then add that to the ethanol. Interestingly enough they can't make this final product in the actual distillery by law, so they have to combine all the product in their internal kitchen and bottle it there.
---
Co-founder Adam Quirk decided that Cardinal Spirits would do their part after noticing the a lack of enough quantities of hand sanitizers in the local area stores. Not only are they producing hand sanitizers they have also provided recipes for "correctly" making it yourself
Update 3/14/2020: FDA is now recommending 80% ABV for ethyl alcohol based sanitizers. We will be updating our recipe immediately (Sunday, March 15, 2020).
Hi everyone. Here is a collection of recipe ideas for making hand sanitizer from GNS for distilleries.
We've seen other distilleries talking about using heads [Editor: The "heads" ar the first liquids that comes off the still, and is usually discarded.] for making sanitizer. While this is probably a fine idea for sanitizing non-porous non-coated surfaces, it's not smart to use on human skin. Methanol is bad for us, which is why we remove it in the first place, right?
Anyhow, here are our recipe ideas…
Hand sanitizer is simply alcohol + emollient (skin softener).
First, here's a good explanation of how alcohol mixes with oils.
And here is what we've done:
10 Liters of GNS [Grain Neutral Spirits] at 95% ABV
2 Liters of mineral oil
1.5 liters of RO water (any water would work)
You need to shake this up pretty good for it to dissolve. And unfortunately, it does come out of solution. We recommend you tell your guests to shake it up before using to redistribute the oil.
The basic recipe is 10L of GNS with 3.5L of some kind of emollient. This nets 14.5L of hand sanitizer at 70% ABV.
Aloe is pretty expensive, and was unavailable in Bloomington. The general point of the post is that you can use any emollient, just make use of what is available to you. And while 60% is a good target, better to err on the side of more ABV and target 70% in case of measurement errors.
So if you have propylene glycol, you could use that:
10 Liters of GNS at 95% ABV
2 Liters of Propylene Glycol
1.5 liters of RO water
If you happen to have a bunch of coconut oil:
10 Liters of GNS at 95% ABV
2 Liters of Coconut Oil
1.5 liters of RO water
If you happen to have glycerin:
10 Liters of GNS at 95% ABV
2 Liters of Glycerin
1.5 liters of RO water
Let us know if you have other suggestions on our Facebook page.
Stay clean, stay safe, and stay in business!
---
Old Fourth Distillery:
According to their Instagram post: "Due to the recent reports of outages and low supply in our community, We have decided to provide hand sanitizer free of charge to anyone in need. Made with aloe vera gel and 95% ethanol. This is no substitute for washing your hands but in a pinch it will get the job done. Available at the Distillery starting March 12th at 5pm. If you have a container please bring it and we will be happy to fill it!"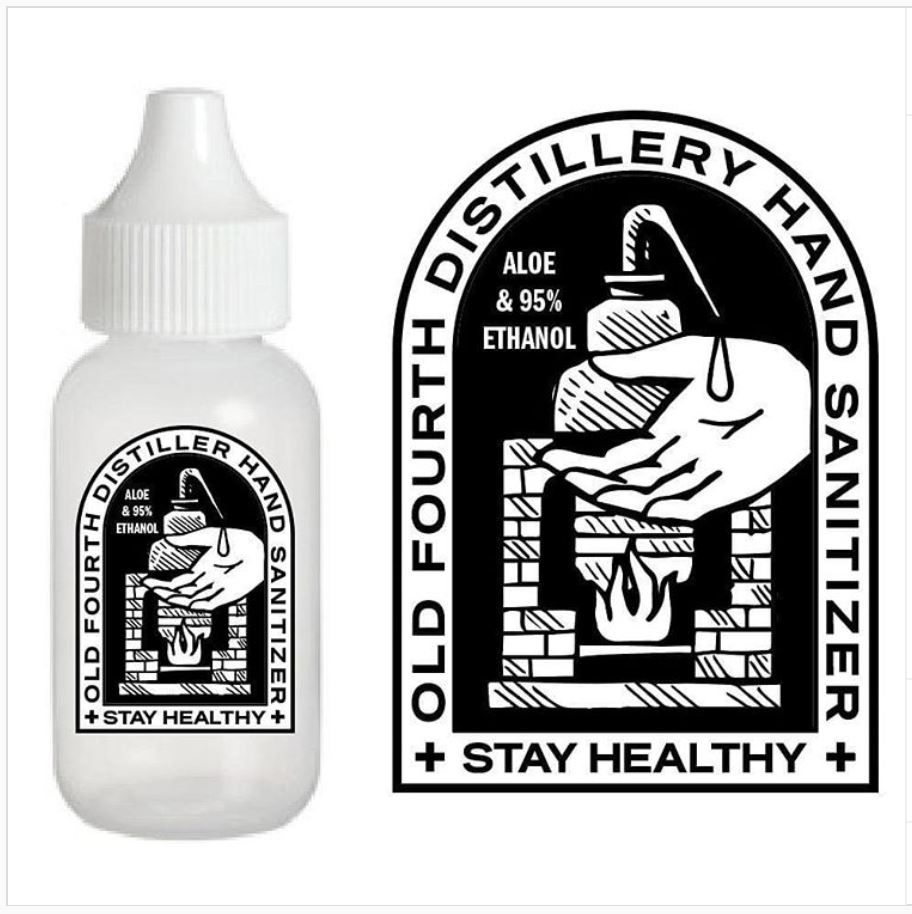 ---
Durham Distillery, based in North Carolina, said in a statement this week that it is in "a unique position of providing assistance to our hospitality colleagues." The company announced it will use its alcohol to create a sanitation solution, which it plans to donate to local businesses in need.
"We distill Conniption gins from a 95% ethanol base. Having this ethanol available enables us to develop a highly effective sanitizing solution of ~70% ethanol and distilled water," the company said. "At this concentration, microbes are killed upon spraying and evaporation."
The distilleries website provided this notice:
COVID-19 SANITIZING SOLUTION DONATION PROGRAM
DURHAM DISTILLERY
711 Washington Street
Durham, NC 27701
From: Melissa and Lee Katrincic, owners
March 12, 2020
ATTN: COVID-19 SANITIZING SOLUTION DONATION FOR HOSPITALITY COLLEAGUES
In light of the recent spread of COVID-19 in our community, Durham Distillery is in a unique position of providing assistance to our hospitality colleagues.
We distill Conniption gins from a 95% ethanol base. Having this ethanol available enables us to develop a highly effective sanitizing solution of ~70% ethanol and distilled water. At this concentration, microbes are killed upon spraying and evaporation.
As an extra layer of protection for our community, Durham Distillery will begin donating this solution to our hospitality colleagues under the following guidelines:
The 70% ethanol and water solution is recommended for surface spray as a final step after shift cleaning. Once the area has been sprayed, do not wipe. Allow for natural evaporation.
During service, the spray should be utilized for high-touch surfaces, including but not limited to:

All doorknobs & door handles
Lavatory
Sink faucets
Toilet seat and handles
Glass-touch surfaces
We will require all who accept this donation to agree to and sign a liability waiver. Under no circumstances is this solution to be consumed or resold.
Donations will be fulfilled on an appointment basis starting March 12th, 2020. We ask that you kindly reach out to Erin McMullen, General Manager (erin@durhamdistillery.com or 919-390-2896) to schedule an appointment.
To the appointment, you will need to bring one of the following recommended vessels with you:
A high-density polyethylene (HDPE) container with a tight, reseal able closure. Some large "mayo" jars should be fine. Check the bottom of your sealable container. If you see a recycling logo with a "2" in the middle, it will work.
A sturdy glass vessel with a tight, reseal able closure.
At this time, the donation will be limited to 2 liters. The solution will be pre-mixed here at the distillery and ready for use. We will go through proper staff training procedures during your appointment.
Keeping our community and families safe is of paramount importance to us all. We will continue this program for as long as we can. This is a time where we know we're stronger together.
With clean hands and hopeful hearts,
Melissa and Lee Katrincic

---
Portland, Oregon-based Shine Distillery & Grill is also making its own "hand cleaner" and providing it to the community free of charge. The company said it wants others to give back as well — so it's also offering to provide its recipe to other distilleries.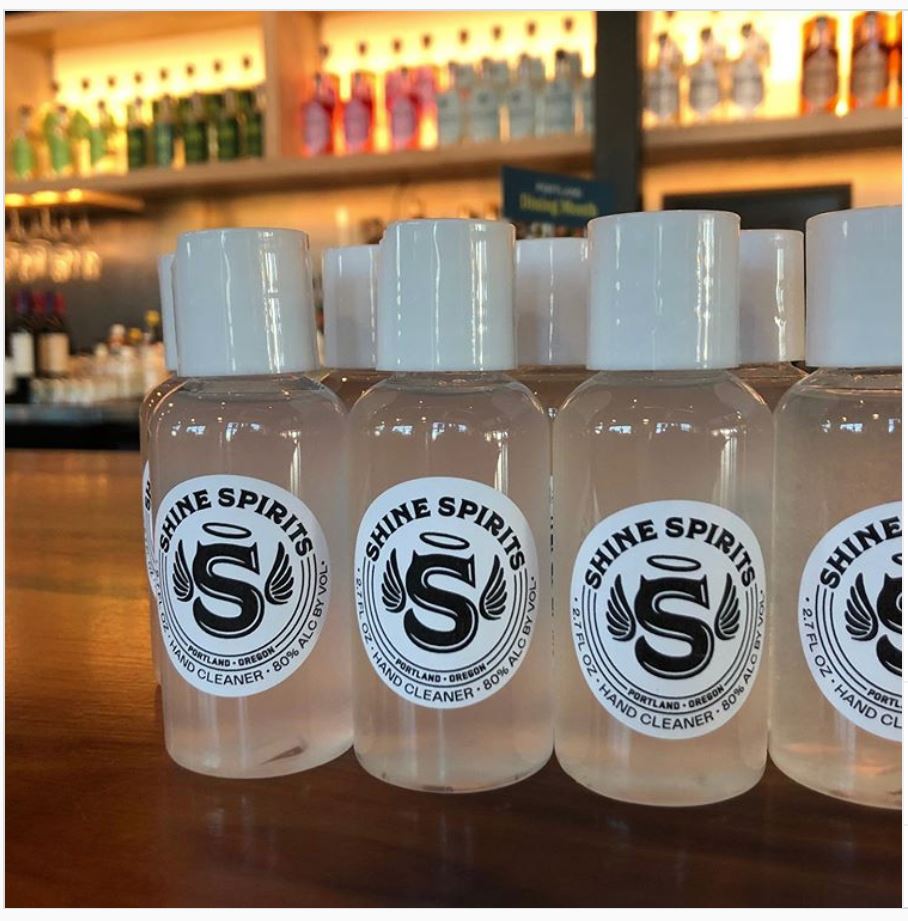 ---
Eight Oaks Farm Distillery in Pennsylvania announced that it is starting a hand sanitizer project, but it has yet to produce physical bottles of the product.The Pennsylvania-based distillery is making its sanitizer from alcohol and aloe."We have temporarily shifted our distillation process from spirits to hand sanitizer in order to support our community, hospitals, assisted living homes and beyond!"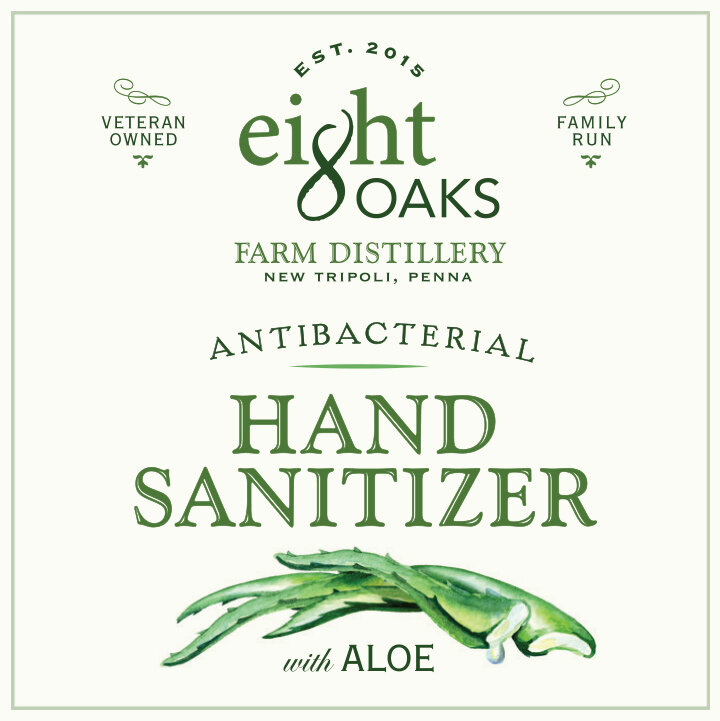 ---
Moonrise Distillery in Clayton, Georgia, which has started producing hand sanitizer wrote this message to consumers: "Please don't try and make sanitizer at home as it will be either too low proof to be effective or make your hands crack and peel from the alcohol."Moonrise is currently offering its hand sanitizer for free. "We are a community of huggers and hand shakers and we want to do our part to maintain that warmth in a safe manner. While washing hands with soap and water remains the best solution we hope the sanitizer will help when that is not possible."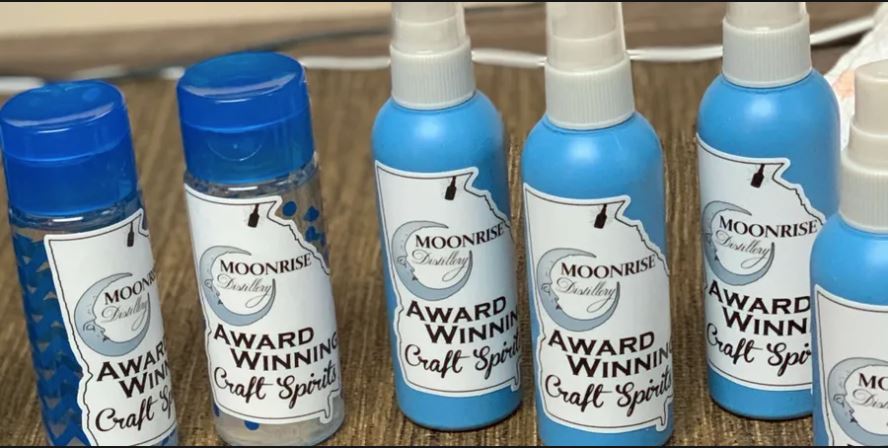 ---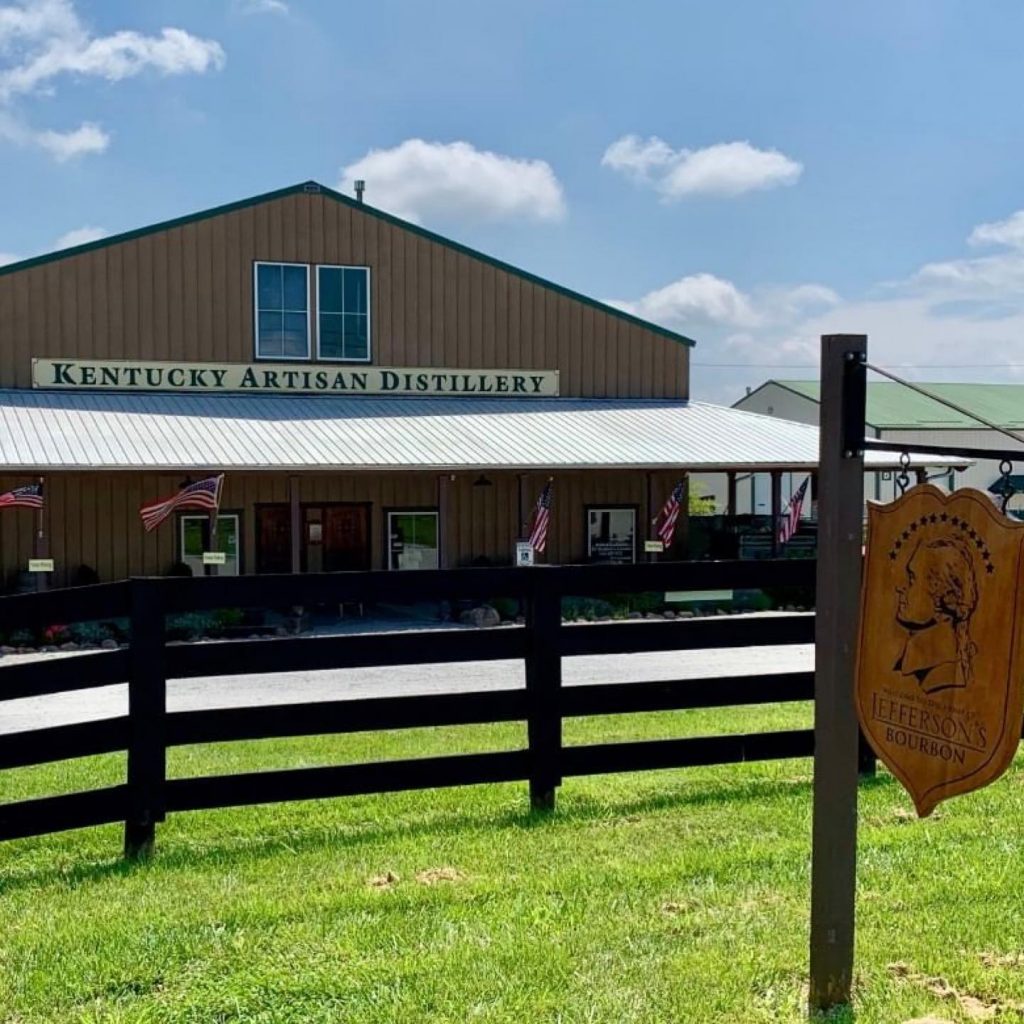 Kentucky Artisan Distillery is doing more than producing its bourbon brands during the outbreak of COVID-19. Oldham County's only distillery is currently providing a 60% alcohol solution that can be used as an alternative to hard-surface sanitizer for first responders, government agencies, nursing homes and other non-profit agencies that are in high risk of exposure.
---
Mammoth Distilling in Traverse City was handing out its custom made hand sanitizer free to customers this week.
The owner said once production slowed down, they decided to use some of their spirits to make the hand sanitizer.
"We're getting a lot of inbound requests from nursing homes and I just got an email from the Autism Centers of Michigan saying they are in desperate need of product, they can't find it anywhere else," owner Chad Munger said. "So, we're going to ramp up production a little bit to handle those requests as well as to handle customers that want to come in and fill up here."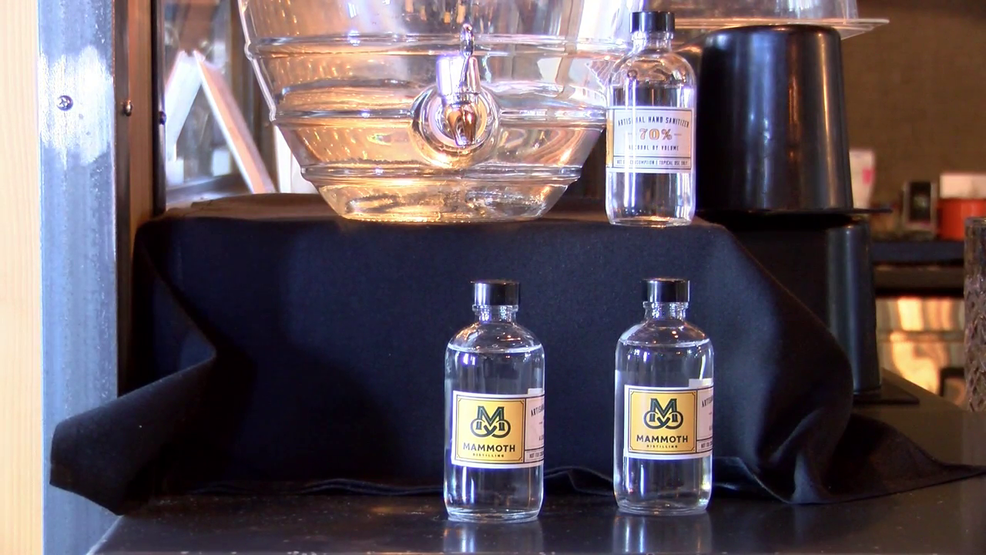 ---
The distilleries in the United Kingdom have also started to help out their country as well.
In a statement on their Instagram feed:
"We have been completely overwhelmed by the number of organisations that have contacted us regarding shortages of hand sanitiser. We are doing what we can to ensure that the frontline and primary care providers have stocks, including nurseries, schools, care homes and medical centres.
Please be aware that this is our priority and we cannot respond to every member of the public who has contacted us through social media, phone calls or emails.
We are speaking with other distilleries across Scotland and encouraging them to do what they can, as we realise that we're in a unique position to be able to create a base product that's got a high enough alcohol content.
There's a severe shortage for those working in environments with those most vulnerable (care homes, the homeless, charities etc). and we would love to see as many get the supplies that they so crucially need."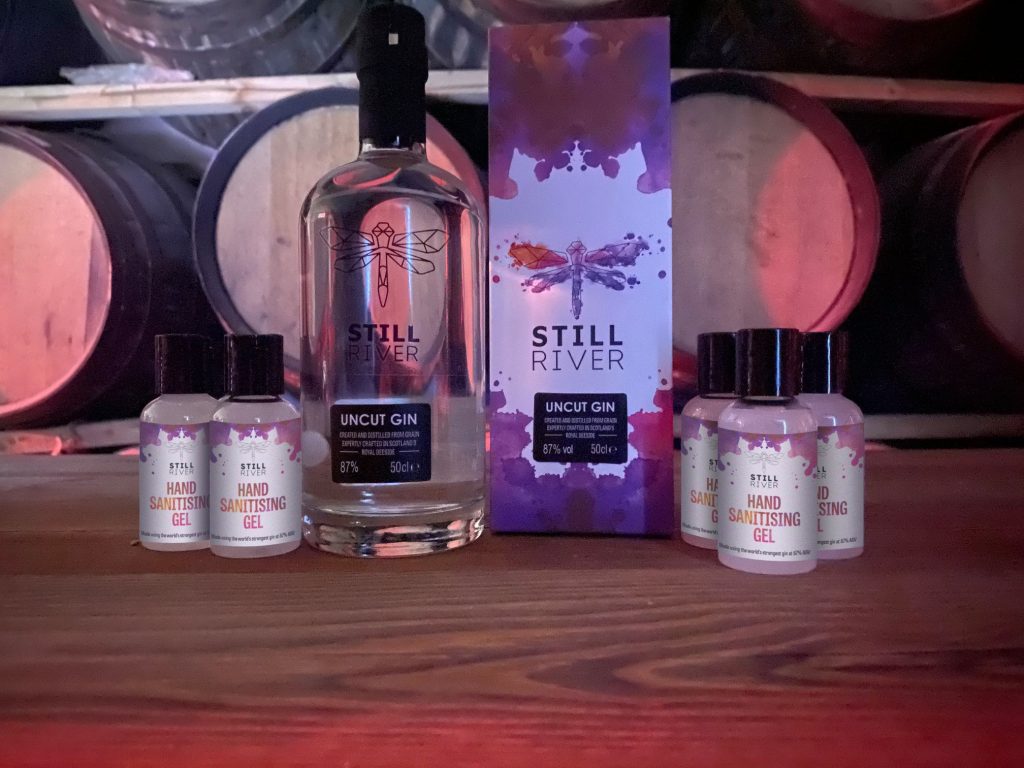 ---
Relaxing Government Red Tape
LANSING, Mich. (WPBN/WGTU) — Gov. Gretchen Whitmer announced Thursday March 19, 2020, that Michigan's licensed distilleries are now permitted to produce ethanol-based hand sanitizers.
"Even in times of crisis, Michiganders have shown their willingness to step up and help each other," said Whitmer. "I am profoundly grateful for the Michigan distilleries who are putting people before profit and are using their production facilities to make hand sanitizer during this COVID-19 emergency."
Wednesday, the Alcohol and Tobacco Tax and Trade Bureau (TTB) relaxed its regulations in order to allow beverage distillers to make denatured alcohol.
This production is not normally permitted unless a distillery has an industrial manufacturing permit, which no Michigan distiller currently has. Under the relaxed rules, Michigan distillers can make denatured alcohol without the normally required permit.
These rules were approved through June 30, 2020, with the possibility for extension as necessary.
Any existing Distilled Spirits Permittee (DSP) can immediately commence production of hand sanitizer or distilled spirits (ethanol) for use in hand sanitizer without having to obtain authorization first.
All TTB-permitted DSPs may manufacture hand sanitizer products that are comprised of:
denatured or un-denatured ethanol
glycerol (not less than 1.45% of the finished hand sanitizer product on a volume basis)
hydrogen peroxide (not less than 0.125% of the finished hand sanitizer product on a volume basis)
---
You have absolutely blown us away with your support this past week! From the bottom of our hearts, THANK YOU!!
Due to the overwhelming need, we're happy to announce that we are completely converting all of our production over to hand sanitizer this week. Please stay tuned for updates on production quantities and where this can be purchased. We will get through this together! Stay strong everyone!
Cheers,
Adam, Laura, Charlotte & The Stumpy's Team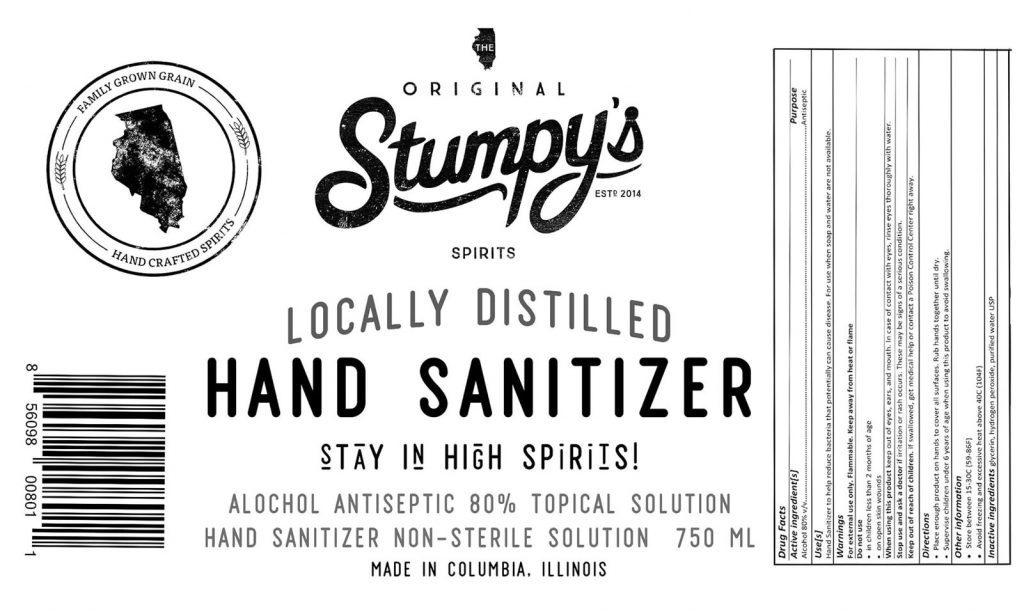 ---
Buffalo Trace Distillery cares deeply about those affected by the Covid-19. We are especially concerned about the lack of supplies to eliminate pathogens for our first responders and others in essential industries who may be affected by Covid-19 in the state of Kentucky.

Beginning on Tuesday, March 24, 2020, Buffalo Trace Distillery will donate 1 case (12 bottles each) of its Clear Spring 190 proof grain alcohol to any of the following approved Kentucky based businesses/non profits:
a. First responders
b. Government agencies
c. Law enforcement
d. 501 c3 charitable entity
e. Health care

In order to be considered, the above organizations will apply through this online form https://forms.gle/GcBHCvkKbKKnsvXx6
Once approved, a confirmation email will be sent when the product is ready for pick up.

It is important to note, our supply of Clear Spring is limited. For state law reasons at this time, only individuals and organizations based in Kentucky will be offered the case of Clear Spring alcohol.

If an individual/organization is approved, the confirmation email will include pickup instructions at Buffalo Trace Distillery, located at 113 Great Buffalo Trace, Frankfort, KY, between noon and 2 pm each day Monday through Friday.

Pick ups will be self service to minimize person to person interaction.
A copy of their Tax-ID number or confirmation email along with photo ID will be required for pickup, and individuals picking up must be 21 years of age or older.

Clear Spring is not a hand sanitizer. It is a high proof potable spirit which can be used on non-porous surfaces for eliminating pathogens. Instructions from the World Health Organization (WHO) for the proper mixture for a medical grade formula will be included with each case.

At this time, priority is being given to first responders and others in essential industries. There may be a possibility consumers not in those categories may purchase Clear Spring for their own use in the near future. Buffalo Trace Distillery will notify consumers via this platform if the opportunity arises.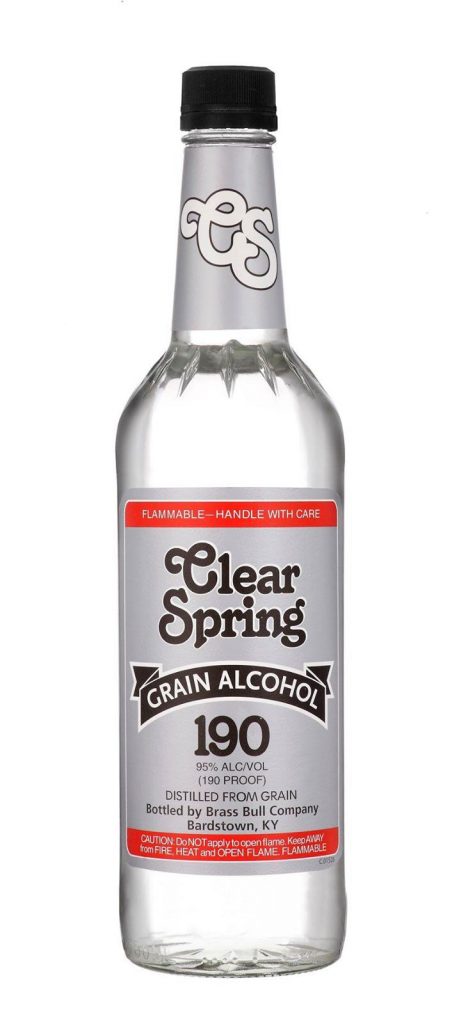 ---
Since announcing its plans to donate production to first responders, nursing homes and food pantries among other destinations, Koval has raked in nearly $40,000 in donations to underwrite production.
"We've turned our business upside down," Koval co-founder Sonat Birnecker Hart said. "For us this is a kind of war effort. We're luckily in a position to have a distillery that can manufacture something really needed for those fighting on the front line."
From their website:
In the coming weeks, we at KOVAL Distillery in Chicago (typically known for our organic and kosher whiskeys, gins, and specialty spirits) will be focusing our efforts on providing hand sanitizers in bulk to the medical community, retirement homes, and those on the front lines in this war against COVID-19. We have been working with Chicago city officials and the TTB to lift the restrictions that will allow us to pivot to supporting our community.
As we all know, the demand for alcohol-based sanitizers is great, and our communities are experiencing extreme shortages. It is our goal to provide these vital products to those in need free of charge.
If you are in a position to help support our efforts, your donation will go toward paying our team, keeping our lights on, and purchasing the necessary supplies to keep up with demand.
We hope that you will respect that we will not have hand sanitizer available for the general public at this time.
On behalf of everyone at KOVAL, we also want to take a moment to thank you for your business over the past 12 years. It has been a pleasure and privilege to serve Chicago, and the world, with our spirits. We look forward to a day when we can once again focus on spritzers over sanitizers.
We have been working around the clock here at KOVAL to make the most of your INCREDIBLY generous donations. To say that we have been completely blown away by the generosity of this entire community is an understatement! Words cannot express the impact your contributions have made, but please find the following updates on how your quick responses have already impacted our community.
* Sanitizer production has officially begun & our very first deliveries went out yesterday!
* Our fearless leader Sonat delivered the first available product to the CPD, District 19.
* The retirement community, Admiral on the Lake received product as well.
* The law firm Edelson PC donated $15,450! This astounding generosity pushed us well over our original goal of $30,000, and will directly bring sanitizer to the Howard Brown Health Center, the Village of Melrose Park and Advocate Christ – all organizations that are on the front lines battling COVID-19.
* Today over 100 gallons has gone out to the CPD and O'Hare Air Traffic Controllers.
From the bottom of our hearts, thank you again to everyone who has donated or shared our message. We have received HUNDREDS of sanitizer requests from people in need, and the inquiries are not showing any signs of stopping. We remain committed to helping as many organizations as possible, and look forward to keeping you updated on how your generosity is shining a bright light during this difficult time.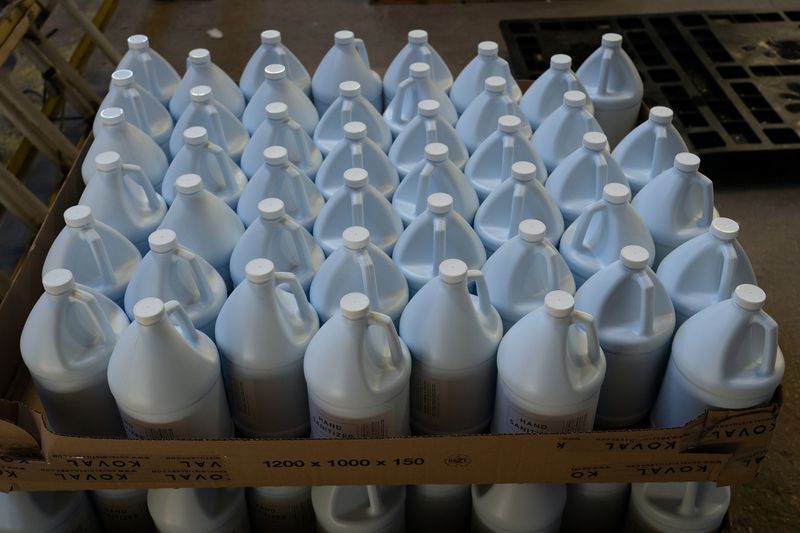 ---
CH Distillery announced Tuesday it will donate a Malort brand hand sanitizer to local hospitals and clinics beginning next week in one-liter glass bottles.
The future collector's item sadly won't be available to the public, but if demand stays high, the pandemic persists and there's surplus product, it may be donated more broadly, even to individuals, CH owner Tremaine Atkinson said.
The distillery began making the sanitizer last week, Atkinson said, and didn't deliberate long before choosing to brand it with Chicago's best worst spirit.
"It's serious in the sense that it's real hand sanitizer that will help people," Atkinson said. "But everyone needs a little bit of a laugh and something to make them smile. We know how people feel about Malort, so we figured why not throw the name on."
Atkinson said he plans to make at least 250 bottles of Malort hand sanitizers, but hopes to make as many as 500 and maybe even more, depending on the availability of ingredients.
He wanted to bottle it in smaller bottles to distribute to the public, but there was too much legalese to fit on the label. So they're sticking with the big bottles.
---
From their Instagram:
Another great day. Another 1,000+ free bottles given away. We are exhausted but feeling fulfilled.

We will be back at it tomorrow starting at 10am for the high risk groups and essential businesses. General Public from 11-3 pm.

Please continue to be patient with us. We are limiting our amounts to the general public to spread it out as much as possible! The larger quantities are going to essential businesses that need it for more people.

Please also remember we are doing the best we can and providing a free service!

If y'all have any unused 4-8 oz bottles to donate, we would be much obliged!! Spokane Strong!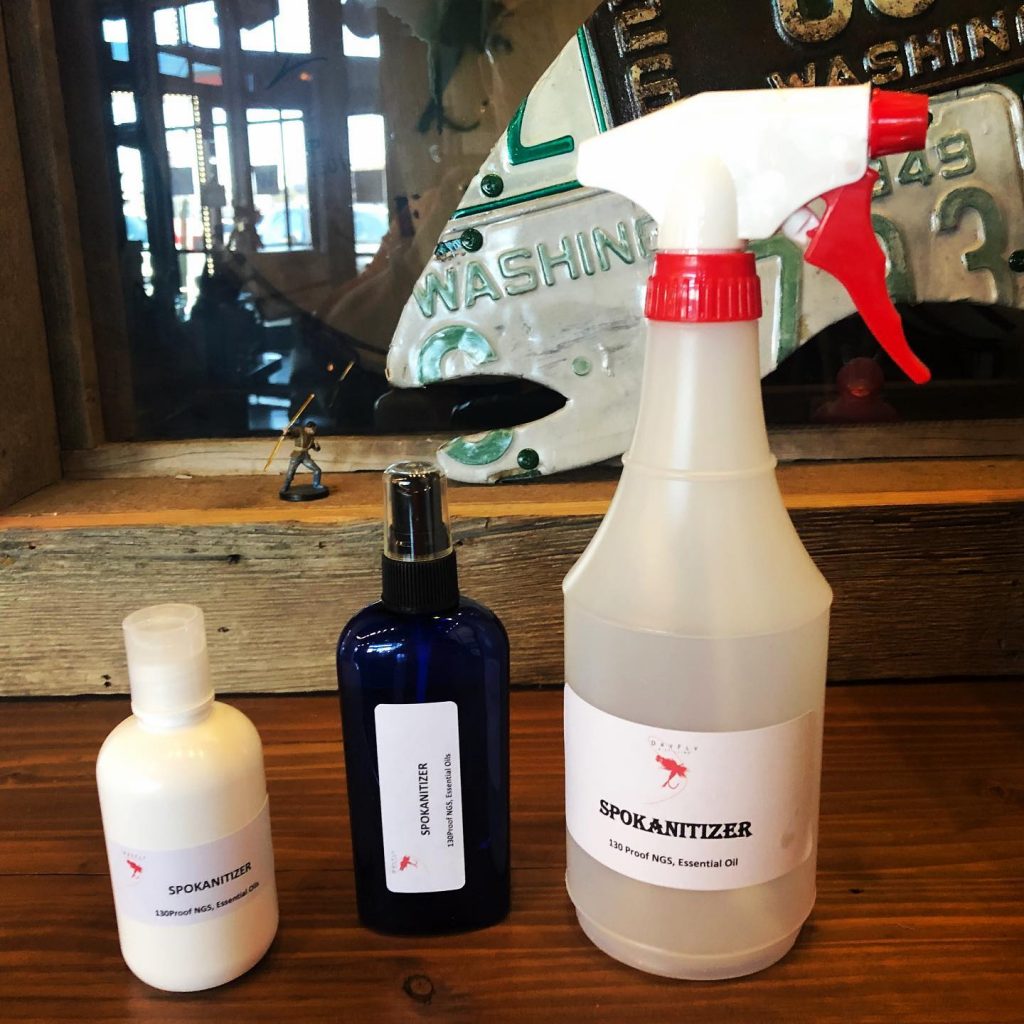 ---
From Instagram:
We will continue to offer hand sanitizer to essential businesses and high-risk individuals. Our hours today are 11am to 4pm. Please note the following changes to the program:

Hand Sanitizer will be distributed by the LOADING DOCK at the distillery. This is toward the back of our parking lot.

Today we will allow Spirit sales at our main entrance door. One person will be allowed to enter at a time, please be patient and don't be offended if we ask you to apply hand sanitizer.

Please be careful and drive slowly in our parking lot. It's getting crowded and no one needs the extra hassle of a fender bender.

For larger organizations (like fire departments, medical offices, etc.) it would be helpful if you can bring containers for us to fill as packaging continues to be in short supply. Large 32 oz. spray bottles are ideal.

For high-risk individuals, we are only providing 4 ounces at this time.

REMEMBER…

FOR EXTERNAL USE ONLY. NOT FOR CONSUMPTION.

The sanitizer is free. We are not able to ship any hand sanitizer.

Washing your hands for 20 seconds with hot water and soap is preferred method is you are at home. Don't waste hand sanitizer if you have access to a sink and soap.

Our phones are overwhelmed. Only call if you are in a high risk category. Please be brief.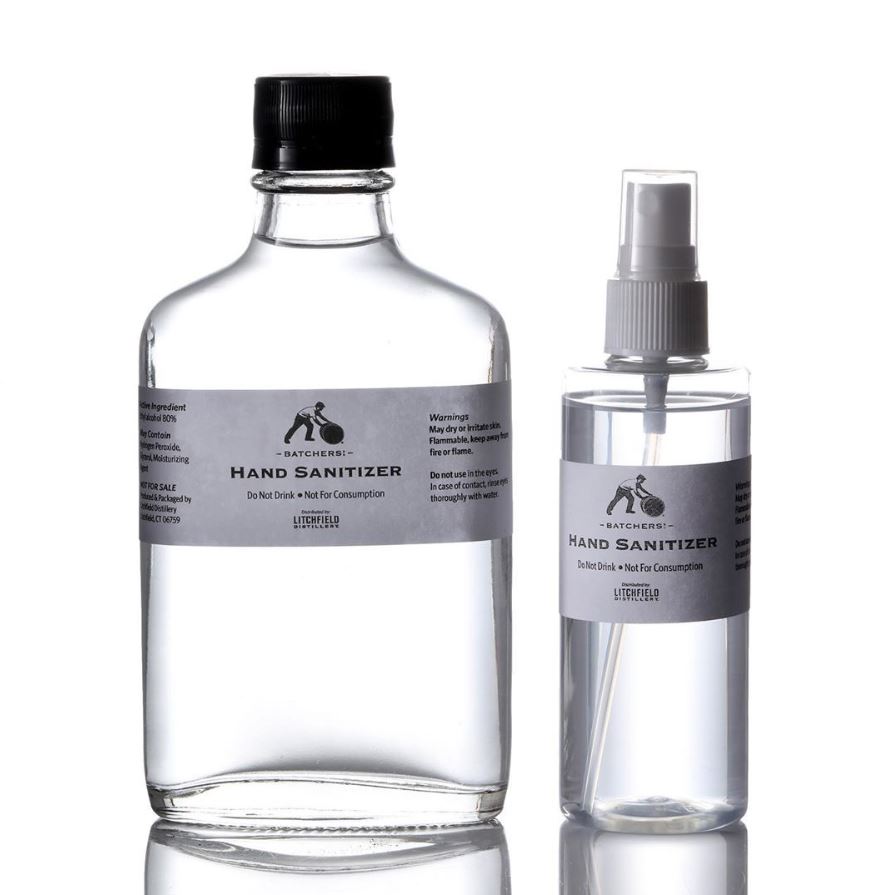 ---
From Instagram:
Getting the first bottles ready to distribute. This batch is for our local community folks that are still working to keep the rest of us safe. Thanks. We'll continue to build supplies and hopefully be able to offer to the general public soon.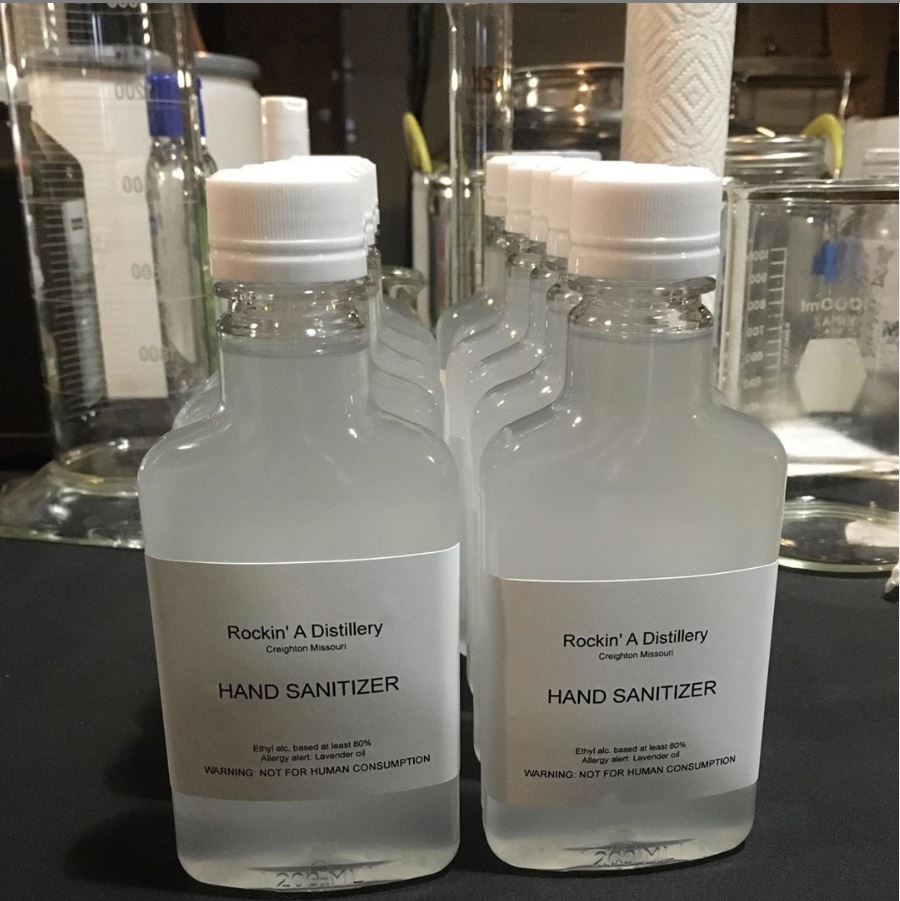 ---
From Instagram:
Cutwater is always committed to supporting our San Diego community. In response to COVID, we have mobilized to use our production resources and Miramar distillery to create an 80% alcohol hand sanitizer, which we are donating directly to local non-profits within San Diego County beginning March 30th. We are working on additional ways to give back in San Diego, so stay tuned for more news to come. We are all in this together!
---
NILES, Mich. (WNDU) – Local distilleries are changing their ways to help meet the needs of residents and first responders. One of those needs is hand sanitizer.
It's almost impossible to find on any store shelf. That's why Howard Tuthill is taking the temporarily closed Iron Shoe Distillery in Niles and using it to give the community what it desperately needs.
"We started producing hand sanitizer," Tuthill told 16 News Now Tuesday.
With a shortage for hand sanitizer and the Iron Shoe having to shut down amid coronavirus concerns, Tuthill says it all made perfect sense to start making sanitizer knowing he has the equipment to do it.
In fact, Tuthill plans to have 1200 8 oz. bottles of hand sanitizer ready for sale by the end of the month.
It requires three key ingredients: alcohol, glycerol, and hydrogen peroxide. It's a recipe approved by the FDA that allows Tuthill to make it in-house at the distillery.
"The FDA has given pretty strict instructions to distilleries on how they can make the sanitizer. We have to follow the recipe given by the World Health Organization.
In order to make it, raw grain must be taken into a mash tank and mixed with water. It is then transferred over to ferment.
"Once it's done fermenting, we put it into the still where I heat it up in the kennel. As I heat it up in the kennel, the alcohol turns into a vapor first. The vapor climbs up through the column, and comes over in the condenser, pulls back into a liquid, and then I collect it when it comes off a still," Tuthill explained.
Once it's off the still, it's bottled up and ready to distribute to residents and first responders in need.
"This is our current source of revenue. Not only that, just being able to help out the community, We've been having a bunch of hospitals and healthcare facilities reaching out asking for sanitizer. Being able to help when it's most needed, that's the most important part," Tuthill says.
Bottles of hand sanitizer will be sold in 8 oz. bottles and 5 gallon containers. Tuthill is still working on pricing each product but says he is refraining from any price-gauging.
"We're going to keep the cost low. We want to help people out," Tuthill said.
---
HAND SANITIZER FOR HEALTHCARE WORKERS
The brave people on the front lines of COVID-19 are in need of hand sanitizer. With your help, Barr Hill can put it in their hands. Your purchase will go to first responders, nurses, and doctors.
Please note Barr Hill Hand Sanitizer is not currently available to the general public and you will not receive a bottle of hand sanitizer. Your purchase will go directly to a healthcare worker. This may change once we fulfill the many requests we have from the healthcare system.
If you know of a healthcare organization in need, please have them reach out to us at cleanhands@caledoniaspirits.com
---
Ponce, Puerto Rico-based Destilería Serrallés shifted its Don Q rum production and, for the time being, is focusing on manufacturing ethyl alcohol with a 70% concentration for free distribution to hospitals and multiple health providers.
"The current emergency situation we are experiencing is critical," says president and CEO Philippe Brechot. "Given the critical outlook and our strong production capabilities, we quickly took on this task and have distributed thousands of gallons of this much-needed high-proof alcohol suitable for sanitation and disinfection, which is vital to prevent the spread of the virus."
Last week alone, Destilería Serrallés distributed nearly 10,000 gallons to hospitals and primary care facilities island-wide. A small crew is working according to strict hygiene and safety protocols and the remainder of employees are on full payroll at home.
"Over the last few years, Puerto Rico has experienced unprecedented emergencies, including devastating hurricanes, earthquakes and this impending health crisis," Brechot says. "Puerto Rico is a resilient community and we are confident in our ability to recover from this collective challenge and rise again."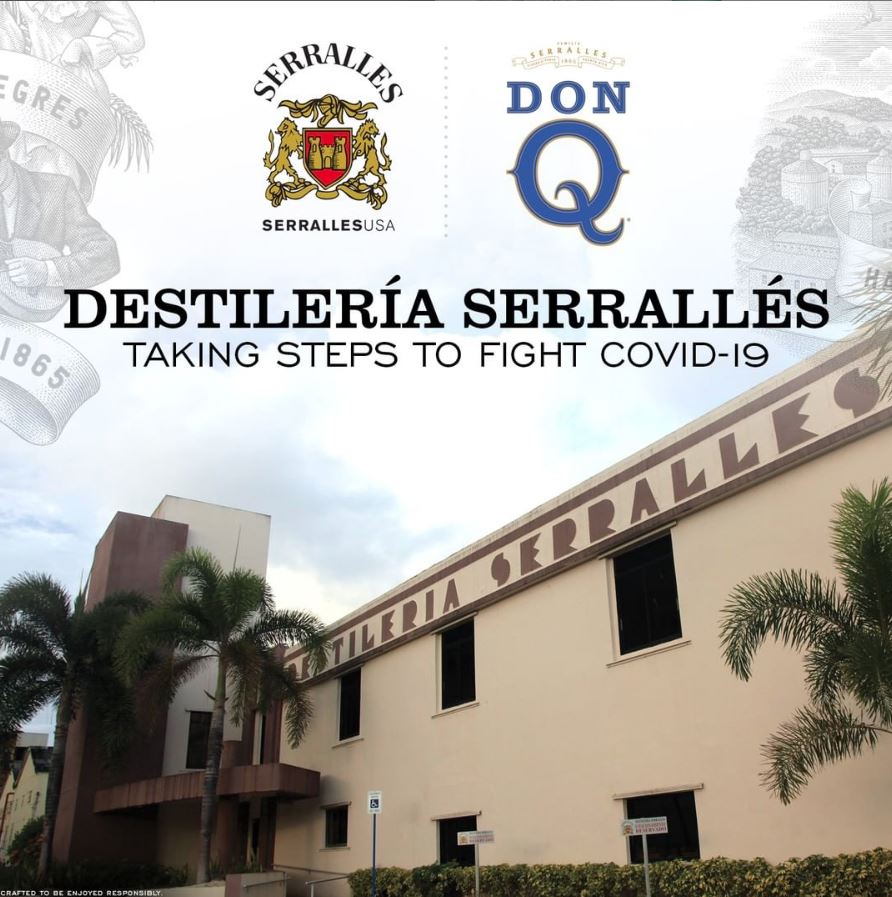 ---
Brown-Forman Corporation Today Announced a Donation of $1 Million to COVID-19 Response Funds
From their website:
LOUISVILLE, KY, March 23, 2020 — Brown-Forman Corporation today announced a donation of $1 million to COVID-19 response funds. The donation announced today supports multiple locations and agencies as Brown-Forman assesses community and industry needs and identifies the best ways to support those impacted by COVID-19.
"As COVID-19 has spread throughout the world, we want to provide assistance to our communities in this time of great need," said Lawson Whiting, Chief Executive Officer, Brown-Forman Corporation. "We are announcing today donations totaling $1 million that will enable us to give back to the people and communities that mean so much to our company."
Initial contributions included in the $1 million dollar gift:
We have partnered with the Restaurant Workers' Community Foundation to support their COVID-19 Crisis Relief Fund. As part of this partnership, we are encouraging people to make a donation to the foundation and we will match dollar-for-dollar donations (up to $100,000). Please visit https://bit.ly/RWCFReliefFund to make a donation to help our colleagues and friends.
• Hospitality Industry: Our friends in the hospitality and service industry are facing difficult times as they wrestle with the financial challenges of being out of work for an unknown period of time. These individuals, including bartenders and restaurant workers, are the face and voice of our brands to so many consumers around the world.
We are joining our colleagues in the Distilled Spirits Council of the United States and making a donation to the United States Bartenders' Guild (USBG) Foundation Emergency Assistance Program to help them during this time of need.
• One Louisville: Brown-Forman made a donation to the One Louisville: COVID-19 Response Fund. The fund will rapidly deploy resources and financial assistance to households, businesses, and community-based organizations working at the frontlines of the outbreak in the city we call home and where we were founded 150 years ago.
• Expanding Our Reach: Brown-Forman is actively exploring additional ways to expand our reach and our donations internationally. As a global company, we have employees in more than 170 countries. These donations will be made by the country team and directed by our site-based leaders.
About Brown-Forman
For 150 years, Brown-Forman Corporation has enriched the experience of life by responsibly building fine quality beverage alcohol brands, including Jack Daniel's Family of Brands, Finlandia, Korbel, el Jimador, Woodford Reserve, Old Forester, Coopers' Craft, Canadian Mist, Herradura, New Mix, Sonoma-Cutrer, Early Times, Chambord, BenRiach, GlenDronach, Slane, and Fords Gin. Brown-Forman's brands are supported by approximately 4,700 employees and sold in more than 170 countries worldwide. For more information about the company, please visit https://www.brown-forman.com/.
About Restaurant Workers' Community Foundation
Restaurant Workers' Community Foundation (RWCF) is an advocacy and action nonprofit created by and for restaurant workers. It was founded in 2018 to advocate for gender equality, racial justice, fair wages, and healthy work environments in the restaurant industry. In the wake of the COVID-19 pandemic, RWCF's full focus is supporting workers, small business owners, and an industry in crisis, through its Emergency Relief Fund. www.RestaurantWorkersCF.org
About the USBG
Our Mission: Uniting the hospitality community to advance professional bartending. We believe tending & owning bars is an honorable career choice. Our goal is to empower bartenders to take charge of their careers. We accomplish this through working with our committed partners to enrich the career advancement of our members through peer-to-peer learning, expert instruction, service projects, and competition. https://www.usbg.org/home
About One Louisville COVID-19 Response Fund
The Fund will rapidly deploy resources to individuals disproportionately impacted by this outbreak and community-based organizations working at the frontlines across the Louisville-region. Funds will be managed by the Community Foundation of Louisville, with distribution to households managed by Louisville Metro Government's Office of Resilience & Community Services. Funding to community groups will be directed by the Community Foundation of Louisville, in partnership with the One Louisville Advisory Committee consisting of funding partners, and representatives of local government and community organizations. https://www.cflouisville.org/one-louisville/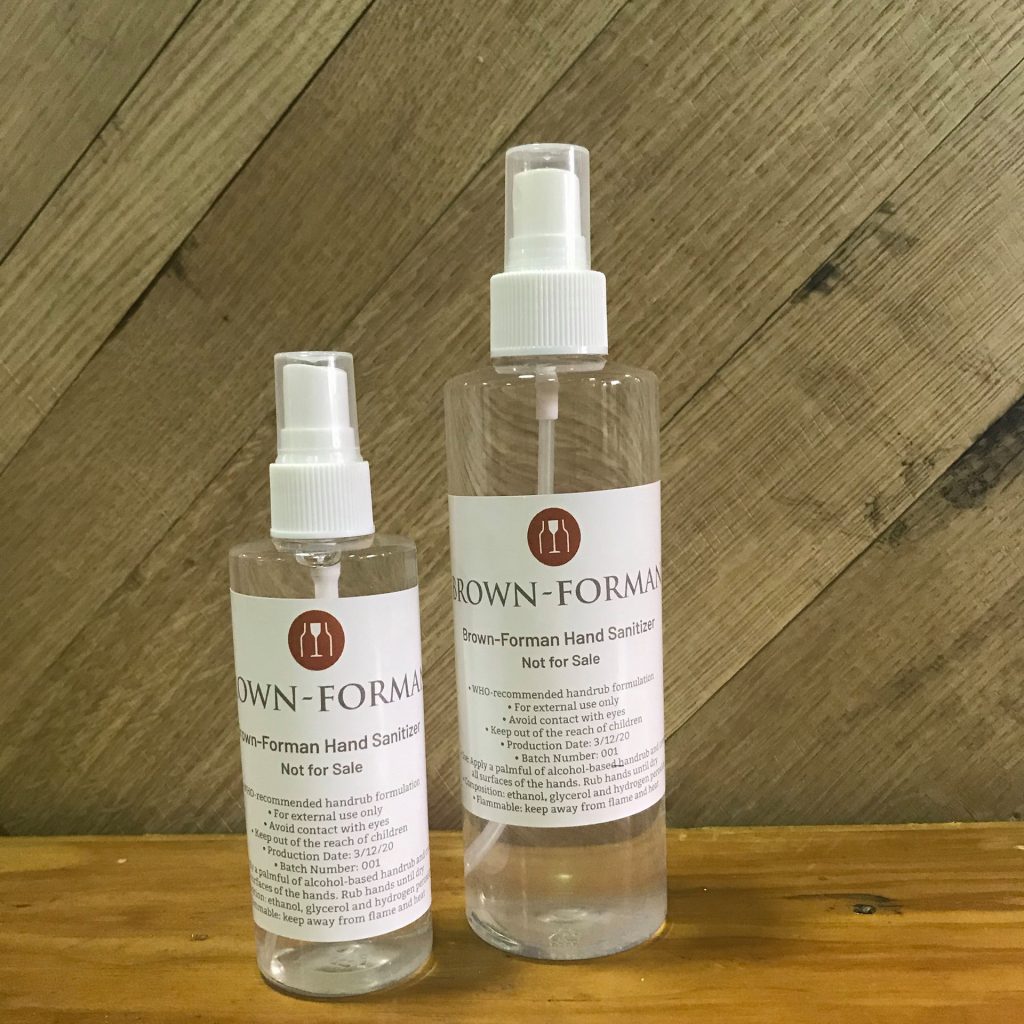 ---
Here at Jeptha Creed, we want to do our part to help the community during this time. For the last week, we have been quietly making and donating hand sanitizer to first responders and hospitals in Shelby County and the surrounding areas. If you are in need of some hand sanitizer, please call us at (502) 487-5007.
---
WE'RE PROUD TO JOIN DISTILLERIES AROUND THE COUNTRY IN PRODUCING ETHANOL-BASED HAND SANITIZER TO HELP MEET DEMAND IN OUR COMMUNITY.
New guidance from the federal government has made it possible for us to denature our beverage alcohol to make hand sanitizer. At this time, we are prioritizing bulk orders while ramping up capacity to meet this critical need.
UPDATE 3/27: WE ARE WORKING ON MAKING SHIPPING AVAILABLE! ORDERS PLACED TODAY WILL BE FILLED AFTER APRIL 15, 2020.
Healthcare providers within 50 miles of Three Oaks: please contact us for a coupon code. Please include your organization's name, address, phone number, and website. Thank you.
QUANTITIES AND PRICING:
1.75 Liter (1): $24.99 BUY NOW
1.75 Liter (8): $167 BUY NOW
55 Gallon Drum: $2,160 (PICK UP OR CONTACT US FOR SHIPPING OPTIONS) BUY NOW
NOTE: bulk orders come in "refill" style containers. No pumps are currently available.
---
Never thought we'd see the day that O.Z. Tyler Distillery started making hand sanitizer, but here we are! Today our Master Distiller, Jacob Call, was able to deliver sanitizer to the Owensboro Health Regional Hospital and to the Owensboro Police Department. Unfortunately the additives needed are very scarce at this time, so we will not be able to offer to the public. Huge thanks to Haleigh Bickett and her team in the lab for helping to make this happen. Everyone stay safe!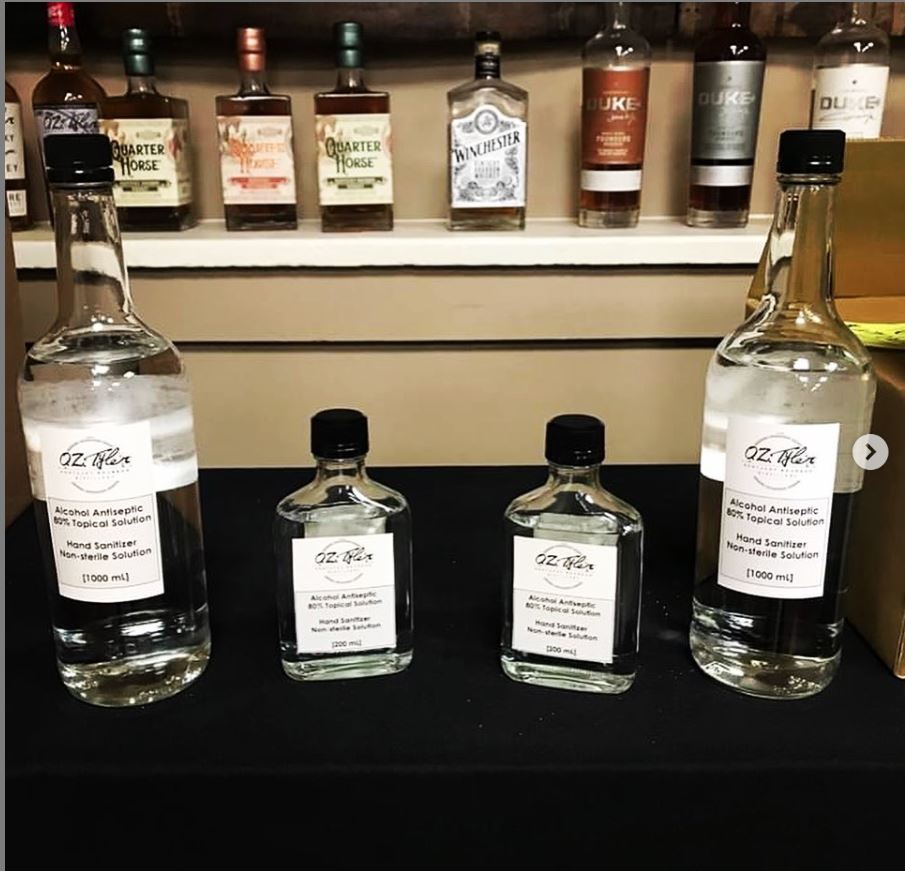 ---
We are giving away 8 oz of hand sanitizer per person (while supplies last). Please bring your empty container, and we will be glad to fill it with your free hand sanitizer!
We will have 80 gallons to donate to the general public. Our supply is limited because we have donated the bulk of our neutral spirits to local medical facilities. Stay safe and be well! Half gallons of hand sanitizer now in stock, as well as 5 gallon buckets!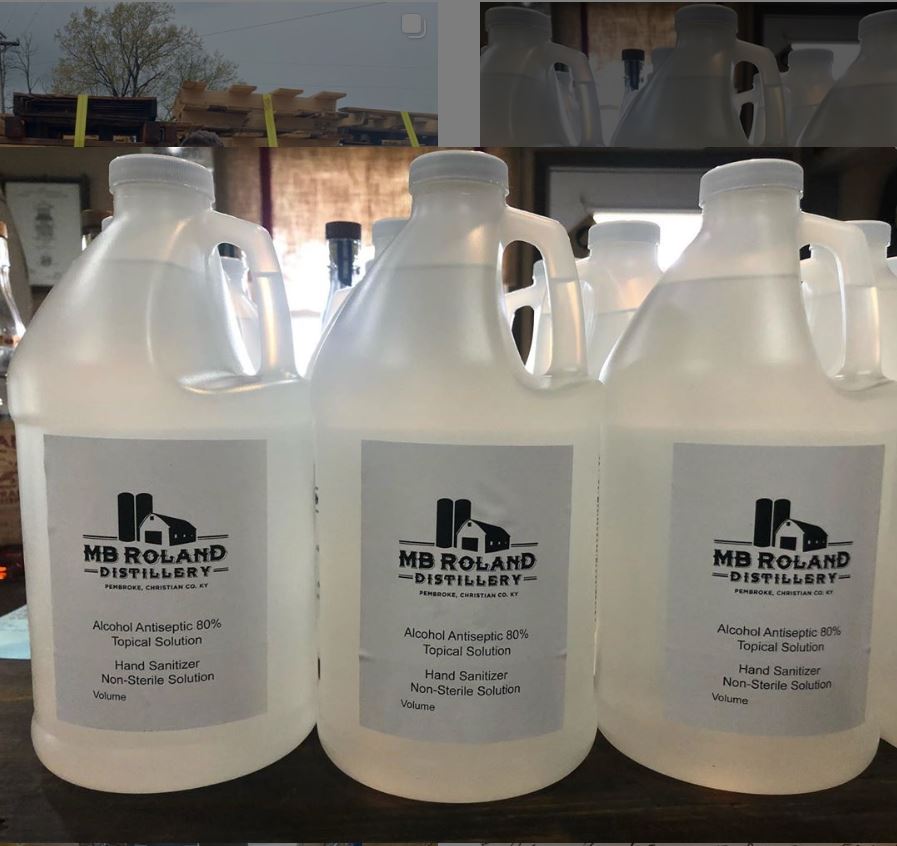 ---
Our team worked hard filling jugs with hand sanitizer yesterday. In accordance with WHO guidelines these are being quarantined for 72 hours before sale. If you've ordered sanitizer it will be waiting for pickup Monday morning at 9am. If you need sanitizer or know an organization who does we still have inventory which can be ordered online. Send an email to info@easternkille.com for more details.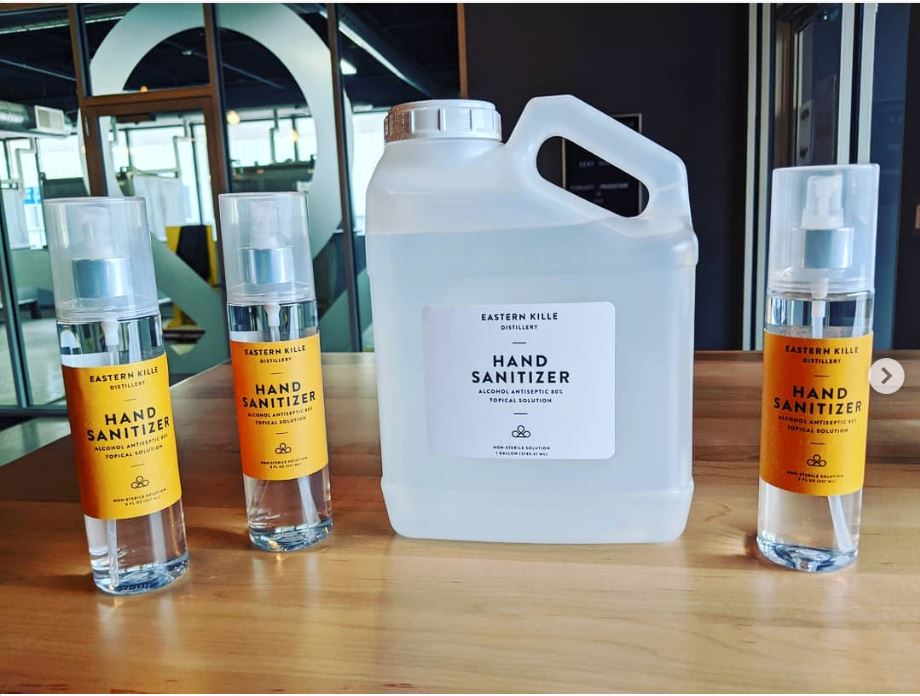 ---
We've been receiving many inquiries about purchasing our hand sanitizer. While we've been heavily focused on supporting and providing for first responders, healthcare organizations, and other essential businesses, we recognize there is a want and need for individuals as well. We are diligently working to be able to produce and sell hand sanitizer to those that wish to purchase, and hope to be able to do so in the very near future.
If interested in inquiring about our donations or corporate sales, please email hand.sanitizer@castleandkey.com.
---
Long nights and early mornings, but we are caught up! Hand sanitizer available for immediate pickup. Order at www.iwcsanitizer.com.
If you can't afford it for you or your family, it's on us. Just stop by the distillery for details. No questions asked.
---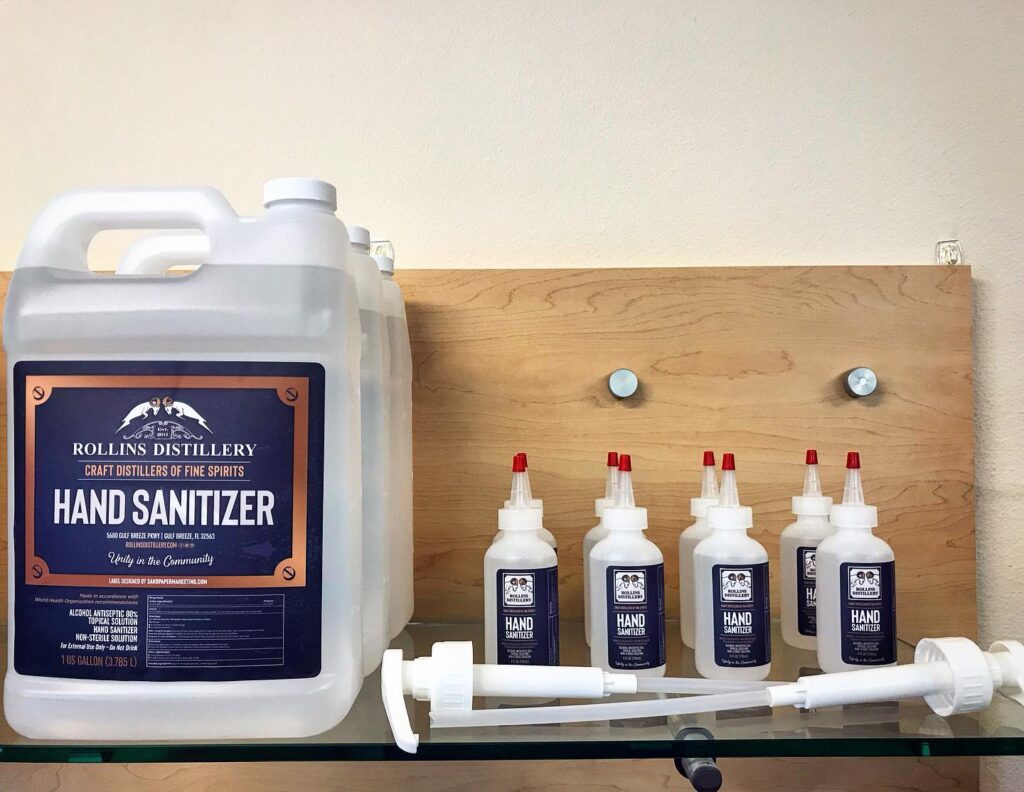 Friends, we are still producing hand sanitizer for the community! If you need any, or know anyone that does, please be sure to stop by.
Recipe is based strictly off the W.H.O formulation computed with our Ethanol, Purified Water, Glycerine, and Hydrogen Peroxide.
80% alcohol by volume liquid hand sanitizer: just put it in your hands, rub it in, and let it air dry (no sticky feeling or weird residue left on your hands)
4oz personal bottles are $3
gallon pumps are $5
gallon jugs are $50
.
If you have any questions, please feel more than free to reach out.
---
U.S. Distillers Making Hand Sanitizer:
as of 4-1-2020 these are the ones that I can identify
California
Cutwater Spirits
Connecticut
Litchfield Distillery
Colorado
10th Mountain Whiskey & Spirits
Breckenridge Distillery
J&L Distilling
Spirit Hound Distillers
Florida
St. Augustine Distillery
Copper Bottom Craft Distiller
Rollins Distillery
Georgia
Moonrise Distillery
Old Fourth Distillery
Illinois
28 Mile Vodka & Distillery
Blaum Bros. Distilling Co.
CH Distillery
Koval Distillery
Maplewood Brewery & Distillery
Stumpy's Spirits Distillery
Copper Fiddle Distillery
Indiana
Hotel Tango Distillery
Huber's Starlight Distillery
The Indiana Whiskey Company
Kentucky
Buffalo Trace
Castle & Key
Jeptha Creed Distillery
Kentucky Artisan Distillery
Lexington Brewing & Distilling Co.
MB Roland Distillery
Neeley Family Distillery
Old Forester
O.Z. Tyler Distillery
Rabbit Hole Distillery
Wilderness Trail
Woodford Reserve
Maryland
Patapsco Distilling Co
Twin Valley Distillers
Michigan
American Fifth
Eastern Kille Distillery
Ellison
Iron Shoe Distillery
Journeyman Distillery
Mammoth Distilling
Michigrain Distillery
Red Cedar Distillery
Traverse City Whiskey Company
Ugly Dog Distillery
Missouri
Rockin A Distillery
New Hampshire
Copper Cannon Distillery
Djinn Spirits, Doire
Flag Hill Distillery & Winery
Live Free Distillery
Smoky Quartz Distillery
Steadfast Spirits Distilling Co.
Tamworth Distillery
Widmer & Davis Artisan Distilleries
Nevada
Frey Ranch
New York
Black Button Distilling
Clayton Distillery
North Carolina
Durham Distillery
Ohio
Karrikin Spirits Company
Oregon
New Deal Distillery
Shine Distillery & Grill
Pennsylvania
Boardroom Spirits
Eight Oaks Farm Distillery
Silverback Distilleries
Tennessee
Corsair Distillery
Junction 35 Spirits
Old Glory Distilling
Texas
Ironroot Republic Distillery
Virginia
Catoctin Creek Distillery
Vermont
Caledonia Spirits
Washington State
Dry Fly Distilling
Glass Distillery
Westland Distillery
Puerto Rico
Destilería Serrallés

Please follow and like us: