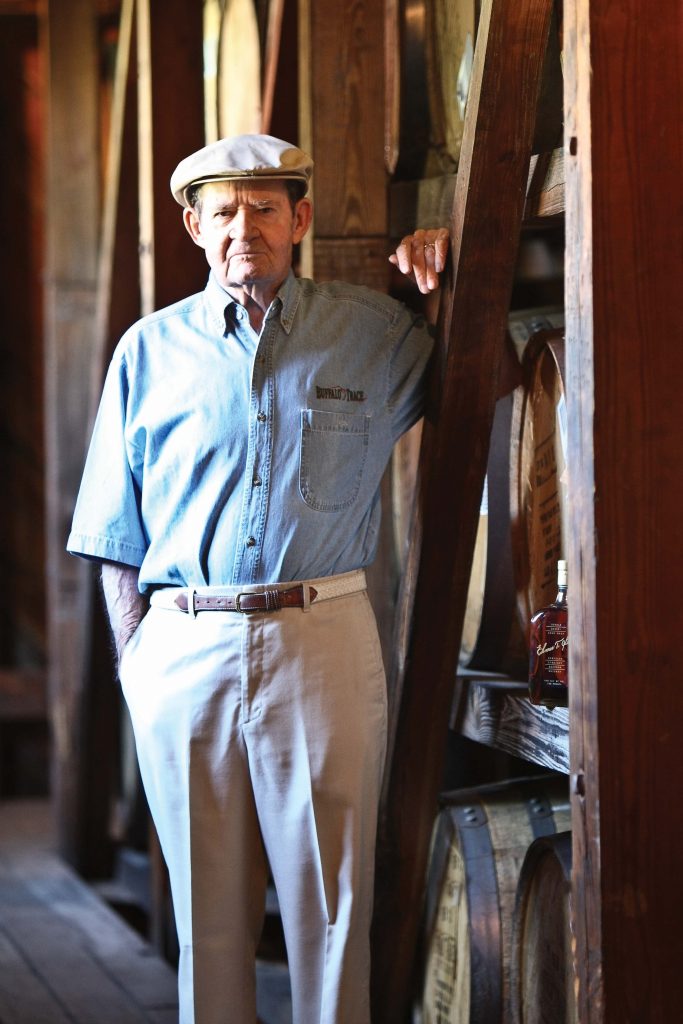 Source: Youtube Nunncenter "Excerpts of Interview with Elmer T. Lee," 2016
He grew up in Frankfort, KY
Went to Frankfort High School
After HS he worked for a shoe company in Frankfort (he has forgotten the name of it)
He volunteered for the Army Aircore in WWII, 4 years in service

Spent most of his time in the South Pacific on the island of Guam
He was a crew member, a radar bombardier on a B-29

After the service he went back to University of Kentucky where he started in 1938-39, around 1946

He received an Engineering Degree 1949

During spring and summer breaks he worked at Shinley (now Buffalo trace) and in 1949 he started working full time for them as a Maintenance Engineer for 2-3 years then made Plant Engineer responsible for modernizing and updating the equipment
He was promoted to Plant Superintendent in 19?? (he forgot the date) about 15 years later
he was plant manager and master distiller until the plant was sold in 1982, from 1968-1982 he was plant manager and master distiller
he worked under Orval Shub, Plant Manager, graduate from Purdue, and he had a lot of influence on him along with the distiller Al Guiser
Albert B. Blanton

Albert was a quiet guy, new what he was doing, respected by the employees, resident manager and gib stock holder of Shinley when Elmer started working there.
Funny story: When Elmer was first brought in to interview for a job at Schniley after college, he saw Colonel Blanton in a corner office, Blanton was wearing a green eye shade and sleeve garters (like an old accountant) Blanton said: "Son we are not hiring any hands today" and then he left the room, but Orval told him, not to worry about that and come to work Monday morning. And every time their paths crossed Blanton would give him a puzzled look. But he was a very nice guy.
Colonel Blanton lived in a stone house on the corner property with his wife until he died
He did didn't interact with him too much, the Colonel retired after Elmer's third year at the plant
Steam Whistle

at noon a steam whistle sounds
been blowing all of his time there
African Americans at the Distillery

Memories of Jimmy Johnson, he was a crew leader, in charge of people putting barrels in the rick house, and taking out aged whiskey for bottling
he was well liked
His dad worked there also
Jimmy's son Freddy now works there
They were treated well, but separate facilities
Distillery Ownership

Shinly owned it from 1929 sold in 1982
sold to people who had previously worked in the bourbon industry, one from New York, the other from Orensborrow (KY??)
Shinly ran it well, Elmer answered to the office out of Cincinnati, that was the production HQ
he got along well with them
Master Distiller

When the plant was sold he got his Master Distiller's title
He originally thought it was just a public relations and promotions and figure head roll
he did a lot of traveling to promote the brands
It was a new concept to him, he was not sure if anyone else was doing that
Distillery Sold from Shinly

He remembers that two men were primarily involved one was in sales at Shinly and Bob Baranaskas was a financial guy
But they took a lot out of the plant selling off a lot of assets and not maintaining the plant, then they sold it to Sazerac in 1992 who spent a lot of money updating it.
Bourbon sales were down in the 80's

MADD
Healthy lifestyles factors
Economy
public turning towards other spirits
Single Barrel Bourbon

He was manager of that program
Concept was to select the best aged barrels and bottle it one at a time
Blanton's was their first product, but did not take off the first year
Bob Baranaskas went to Elmer and told him they wanted to come out with the best premium bourbon, and how to do it
Elmer told Bob about Blatnon's "honey barrels" he used for his parties
Bob went with that concepts and name and let Elmer pick the barrels in 1984
Bob invited his competitors to do the same thing but non did the next year but then they did, Rock Hill Farms, Hancock Reserve
When Elmer retired Bob asked him if they could name one after him, and Elmer said yes as long as he could pick the barrels
The colonel thought wearhouse H produced the best barrels
Elmers favorite is I and K, it seems to age to his liking better
Elmer doesn't know why the warehouse age differently but that they do.
The upper floor barrels are generally their premium bourbons, usually aged 8 years
The barrels on the first floor are the ones that are going to age the longest so they don't get to over the top
He likes 8-10 year old barrels that is his sweet spots.

Blanton's, RockHill, Elmer T. Lee are all 9-10 year old
Buffalo trace is 9.5 year old
the smoothest tasting in his opinion is 8-10 year
15 -23 year olds he does not like due to the woody, tannic acid taste
Elmer T. Lee Brand

Established 1986 when he retired
He looks for a barrel with the proper taste of bourbon, vanilla, smooth taste to the pallet, not overly flavored, and not a big aftertaste burn, which he does not like
he does about 8-10 tastes in a row then takes a break, after each taste he rinses his mouth out with water
He spits each one out other wise he could not walk out of the tasting room
90% of the 25 samples he chooses, only about 3 rejects for him and his panel of samplers. Any one of the tasters can reject a barrel
Each warehouse has its own profile so a batch may be split up into different warehouses then pulled back and mixed together
Buffalo Trace all comes from warehouse C on primarily the third floor
Barrel Strength Bourbons

There is a marketplace for them
He does not know how people can drink them straight, he things they have to have lots of water added to them to drink.
George T Stagg is about 127 proof
Chill Filtration

is the preferred method at Buffalo Trace as of his interview
Does take some of the color and some taste out
He does not like charcoal filtration
Earlier Brands made at Buffalo Trace Facility before the 1980s

Ancient Age was a flagship from Schinly
Eco Springs (mostly OH)
Cream of Kentucky
about 8 or 9 brands
Old Bourbons

Some of the bourbons that he tasted made before prohibition were as good as the high end bourbons made today in his opinion

The process hasn't changed all that much
Change

The major change in production is updating equipment and putting it under computer controlled
The warehousing procedures have not really changed
the bottling procedures have not changed much except for the efficiency and speed
Public Perception of Bourbon

It has swung towards Bourbon in the last 10 years, before that it wasn't the favorite taste in the spirits market

Future Direction; he think it is on the right course just try to do it better
Early 40s and 50s the recipe and process changed to make bourbon smoother than in the past
Elmer T. Lee Brand

That is is favorite drink
He drinks about 1 oz with a little lemon/lime soda (7Up or Sprite) over ice
He is not a big fan of Bourbon and Colas
Legacy

If someone wrote a book about him he would hope that they would write that he

was a good manager
treated his employees fairly and squarely
not a hard person to get along with
---
From Buffalo Trace Website 8-1-2020:
Elmer T. Lee
"Son, we're not hiring any hands today" were the words that greeted Elmer T. Lee when he first showed up to interview at George T. Stagg Distillery in 1949. They happened to be uttered by Col. Albert B. Blanton, the iconic President of the Distillery at the time. Had it not been for Orville Schupp's insistence that he come in to work the following week anyway, Elmer might not have gone on to be named the Distillery's first Master Distiller.
Kentucky born and bred, Elmer joined the Distillery as a maintenance engineer in 1949 after serving as a Radar Bombardier in World War II and returning to earn an engineering degree at the University of Kentucky. Quickly rising to Plant Engineer, then Plant Superintendent and eventually the shared title of Plant Manager and Master Distiller, Elmer oversaw much of the Distillery's modernization and growth up until his retirement in 1985.
In 1984, Elmer honored the man who was initially so skeptical of him by introducing the world's first single-barrel bourbon, Blanton's Single Barrel. Not long thereafter, Elmer himself was honored with his own single-barrel namesake. Both bourbons have been the recipient of the highest worldwide acclaim and honors .
Elmer continued to serve as an ambassador and Master Distiller Emeritus for Buffalo Trace, educating the world on the heritage and unique qualities of Kentucky's bourbon whiskey. His work and legacy have been honored by his induction into the Kentucky Bourbon Hall of Fame in 2001, his receipt of the "Lifetime Achievement Award" from both Whisky Advocate in 2002 and Whisky Magazine in 2012, and his induction into Whisky Magazine's Hall of Fame. Elmer passed away in 2013 just a few weeks shy of what would have been his 94th birthday, but his contributions to the bourbon industry live on through the millions of fans worldwide who enjoy his creations.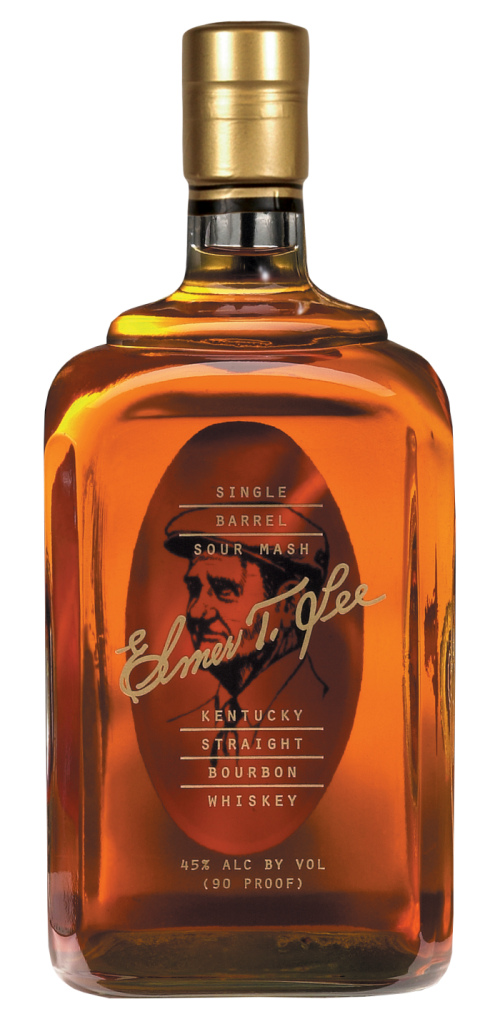 Please follow and like us: