---
While visiting our friends Joe & Krissie in Pensacola, FL we looked up local distilleries and found one not far away. The Rollins Distillery is a micro distillery located in a little strip manufacturing mall. We got there and went into the door marked office and looked around to find no one there, but the lights were on. We waited a little while to see if anyone would show up but they didn't so we waited some more and looked around the office slash gift shop slash tasting room. Michael did go back outside and next door to look into the open garage door to see what was in it. He came back and said it appears that they are in the middle of a tour, so we patiently waited and looked around. We all loved their bottle labels!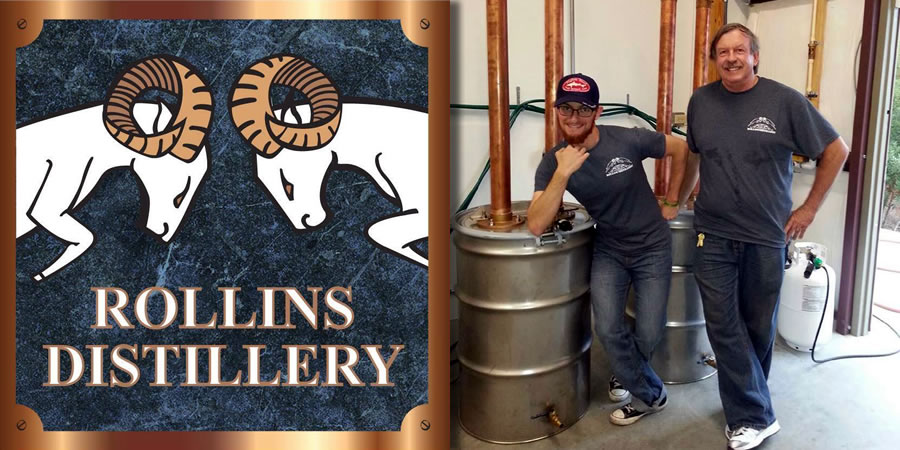 We really didn't have to wait long until the door opened and the tour group and their guide came back. The guide was the senior member of the father and son team of distillers that own the small craft distillery. Paul Rollins studied chemistry in the Naval Academy and he put that scientific knowledge to good use at the distillery. His son Patrick is in charge of the branding and marketing.
Unfortunately we did not know that we needed to book a tour in advance, so we did not get to tour the distillery, however since we arrived at the end of the previous tour we did get to sit in on the tasting part.
Paul is not only a distiller and tour guide, he is also a historian telling us very interesting stories from the past in between samples. One of the reasons he tells the stories, according to him, was to allow the newly poured spits to rest and breath for a few minutes to allow the maximum flavor development. We enjoyed the history lessons and of course the samples.
We tried their vodkas and rums and purchased their Golden Rum as it was the one that both Michael and I liked togehter. It was not as sweet as the Rock Candy version, but also not as "rummy" as their Crystal Rum.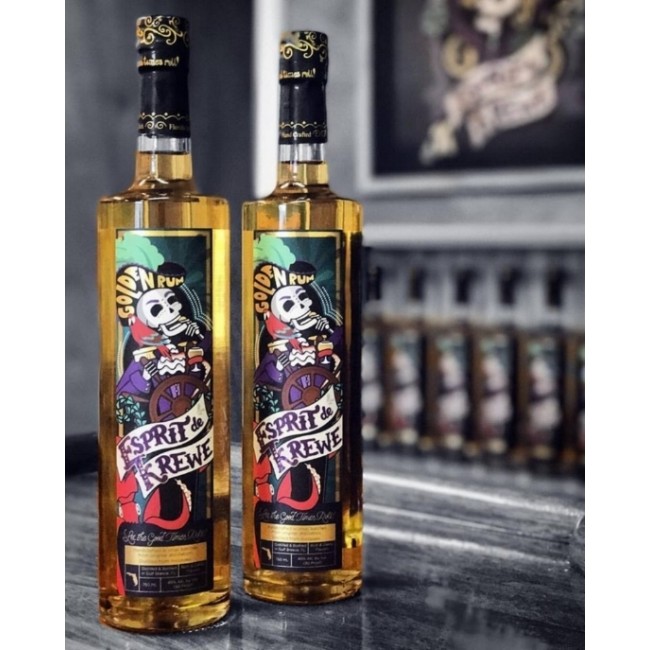 They distill a Golden Rum, which Paul Rollins describes as "similar to a Cuban or a Puerto Rican-style rum, it's lighter and it's matured with oak." Then there's the Rock n' Rum, which uses the Golden Rum as a base but is then flavored with genuine rock candy.

They also have a limited-release Krewe of Jean Lafitte rum, which is a single distillation rum that has "more of a rummy character to it, a bit more of the butterscotch, molasses kind of taste." And, of course, the vodka — a simple, pure cane vodka that takes about a month to make, from molasses to bottle.
Next time we come down for a visit, we would actually like to tour the actual distillery and take our own images to show you. Just one more reason to come and visit our good friends Joe and Krissie.

---
Awards:
The Rollins have taken home several awards for their products, most recently a gold medal for their cane vodka and a bronze medal for their Rock n' Rum at the 2019 American Distilling Institute Spirit Competition. They were one of only two distillers in the state of Florida to bring home awards.
The beginnings of the distillery:
The Rollins family moved to Gulf Breeze in 2001, when the wife and mother was still in the military. The father and son incorporated Rollins Distillery in 2011, rented their location in the strip manufacturing mall in 2012, received their very first Florida molasses shipment in 2013 and then spent three years doing research and development before sending their first product to the market in 2016.
Located in Gulf Breeze, Florida (next door to Pensacola), Rollins Distillery is a small craft distillery and they are the First Licensed Distillery in the Florida Panhandle. Their core Brand is Esprit de Krewe, specializing in Rum and Vodka.
Please follow and like us: