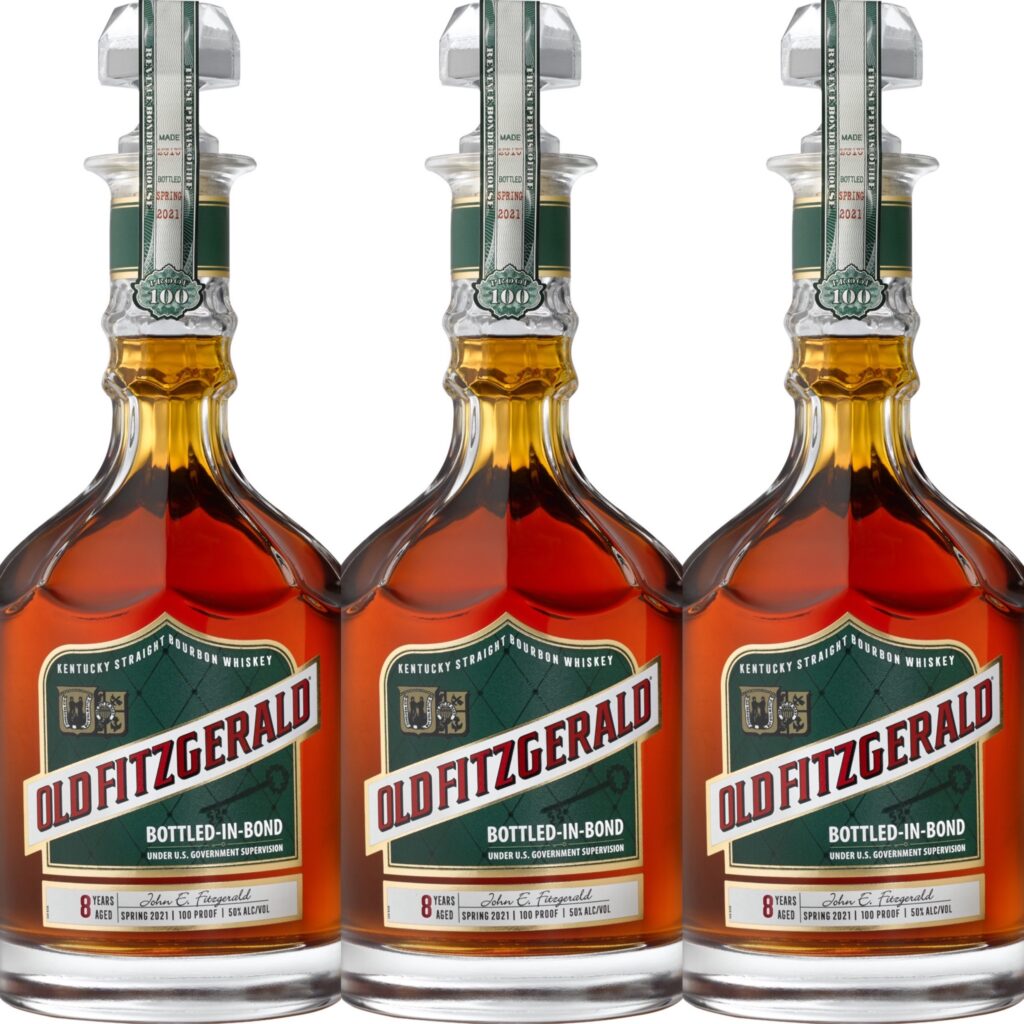 Heaven Hill Distillery has announced the Spring 2021 release of their rare Old Fitzgerald Bottled-in-Bond decanter series, which is the first 8-year-old in the line.
The Old Fitzgerald glass decanters are released twice each year in the US to mark the traditional distilling seasons, the first in Spring wearing a green label and the second in fall sporting a black label. Also, there is a red label which is a distillery only release each year. The Old Fitzgerald line started in 2018 and has delivered bottled-in-bond bourbons between 8 and 16 years of age ever since.
Each release of Old Fitzgerald Bottled-in-Bond is made from the same wheated bourbon recipe that made the Old Fitzgerald name famous during the decades after Prohibition when it was bottled by Stitzel-Weller. The eight year age statement on this Spring 2021 release is especially meaningful: before 1958, 8 years was the maximum amount of time a bonded bourbon could be aged before the government called to collect taxes on the barrel, so Stitzel-Weller introduced an 8-Year Very Old Fitzgerald as their top shelf bourbon.
The Old Fitzgerald product line is traditionally a bonded bourbon, although Heaven Hill does offer a gold label budget version at 80 proof in Kentucky.
The history of the brand is the legend of John E. Fitzgerald who was a government tax man, who inspected the warehouses where bonded bourbon was aged.
A whisk(e)y labeled "bottled-in-bond" must:
All be the same type (bourbon, rye, etc.),
Be distilled during the same distilling season
Distilled at the same distillery
Distilled by the same master distiller,
Must be aged a minimum of four years in a government bonded warehouse,
And must be bottled at exactly 100 proof.
It's an exhaustive bar for distillers to meet, but their payback comes in the form of a tax break – rather than pay taxes on a full barrel, they're able to pay on only what they actually bottle, and an 8 year barrel can have almost 20 gallons evaporate as it rests.
The youngest age statement in line brings good news in the budget department – this will be the most affordable Old Fitzgerald release yet at just $85.
Please follow and like us: