Spirits of French Lick
Facebook
Instagram

---
From their website:
Alan Reed Bishop – Head Distiller
Alan is deeply passionate about the connection forged between agriculture and distillation. As the product of a life spent on a family owned farm and in the profession of plant breeding Alan is deeply committed to fully exploring the history and future of distilling in Indiana. A self-described lifelong student of the art of distillation and an avid researcher of distilling heritage Alan brings 19 years' worth of experience to the table at Spirits of French Lick.

Alan runs the blog: The Alchemist Cabinet:

Welcome to A.C. This will for the foreseeable future be the new home to all of my incoherent, rambling, and passionate thoughts regarding my trade and my art. Here you will find any number of posts pertaining to whatever obsession has grabbed my attention for the moment, most relating obviously of course to farming and distilling and the history thereof but also to my philosophical jaunts and artistic whims.

My name is Alan Reed Bishop, I am a southern Indiana Farmer-Distiller tied to my home county of Washington and my hometown; Pekin. I have a background in independent seed breeding and previously in home distillation and am a historical re-enactor, researcher, and often a community volunteer. I am the head distiller of Spirits of French Lick in neighboring Orange county Indiana. Together with my wife and daughter, Kimberly and Penny, and my extended family as well as my many "brothers" and "sisters" I operate a small farm known locally as Bishops Homegrown as well as an ever evolving "proto" business called "Face Of The Earth" which focuses on the development of agricultural/horticultural varietals for distilling as well as on distillery consultation.

I hope to share with my friends much of the work I occupy my time with here including the latest culmination of what has been a long evolving book, seed company, and consultation service and to further my own knowledge as well as yours. Although there will be times when the blog may go a while without an update, I plan to use this platform quite extensively to document my thoughts and research and highlight news about Face Of The Earth products.

All content is property of Alan Reed Bishop.  Feel free to post, re post, and borrow as needed, just give credit where credit is due.  I'm not above "donations" either.

---
Gamblers and gangsters, artists and architects, frontiersmen and businessmen, heroes of sport and especially the wayward backwoods distillers that kept the social castes, well, sociable, these ethereal inhabitants of French Lick's past were truly a restless bunch. The legends alone would be enough to guarantee a place in any history book, but the final paragraphs have yet to be written for this rediscovered bastion of Americana.
Spirits of French Lick is leading the way for Indiana distillers by bringing the artisan distilling industry and its inseparable history back to the Southern region of Indiana. Our goal is to represent both the quality and the history of Hoosier distillation, presenting an untold and ever unfolding story about the nature of distillation in the state, while exemplifying and expanding upon what that industry has evolved into.
We are very precise in the way we represent who we are and what we produce, playing the part of both distiller and historian. This approach gives us a very unique place in the industry, not just in terms of our story, but also our methodologies of double pot still distillation, retention, and concentration of flavors. We rely on both time-tested practices, and new innovations in our distilling program. Through these processes, we craft a spirit that has defined character, equally driven by grain, barrel, yeast and experience and following Spirits of French Lick's only rule: "Respect the Grain".
Our distillery in West Baden, is an outgrowth of the French Lick Winery. Spirits of French Lick focuses on four pillars of distilling: bourbon, brandy, botanical spirits, and American whiskey. Locally, we lead the industry by being the largest pot-still distillery in the state of Indiana. We create pre-prohibition style products and distill them in a method consistent with their historical counterparts. Our Distiller, Alan Bishop, has spent 19 years of his life working through the art and science of distillation, expanding his knowledge at every step. He constantly seeks out ways to continue his education through industry innovation practices, but also through discovering and preserving the rich distilling history of our state.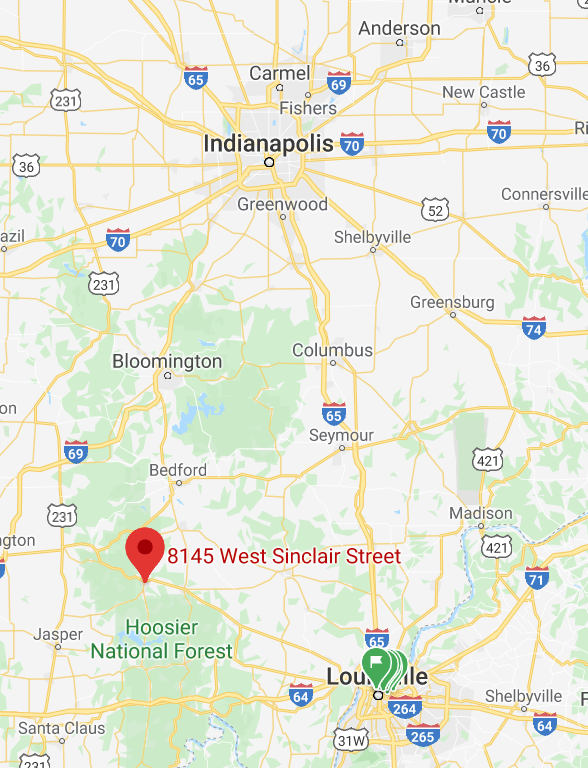 Our wheat and corn are cultivated on our Hoosier Homestead-designated farm using sustainable farming practices. Spirits of French Lick prides itself on using local Indiana products when not sourcing directly from our farm. Investing more than ten years of development, Alan has created a new hybrid, open-pollinated strain of heirloom corn. This strain, The Amanda Palmer variety is grown on a fifteen-acre plot annually and used in our estate bourbon. The development of the Amanda Palmer strain and our use of alternative grains in distilling, including oats, kasha, and buckwheat, is one of the many things that separate us from other Indiana Artisan distilleries. Other distinguishing practices include our focus on temperature control during all phases of distillation, as well as our unique pot-distillation methods, lower entry proofs into barrel, lower char barrels during maturation, and toasted staves and heads.
Spirits of French Lick also is one of the few artisan distilleries equipped with our own grain mill on site, complete with a seed cleaner to help produce a cleaner, purer spirit, free from offending flavors. We are constantly evolving our distillation practices and expanding our library of distilling skills and distilled products. Through our unique products, including our single-pass Calvados-style Apple Brandy, citrus forward Old Tom Gin, and Indiana's first commercial Absinthe, we live, breathe, and create distilling history.

---
LEE W. SINCLAIR 4-GRAIN
Lee W. Sinclair Bourbon is a 4 grain straight bourbon whiskey fermented at 85-90 degrees for four days from a mash of corn, oats, wheat and caramel malt using two distinct yeast varieties. The first yeast pulls out the grain profile and the second yeast pulls out fruity and nutty esters for distillation. The oats add a creamy mouth-feel to the profile and a sweet aroma while caramel malt, which is typically used for brewing, ads a layer of sweetened aroma over the base of the grains.
This bourbon is double pot distilled, and the cuts on the doubling run were made in a very clean manner to bring the grain and terroir out in this spirit. The emphasis is on retaining and concentrating the grain during distillation and balancing these elements with the barrel characteristics during maturation. We use number 2 charred New American Oak barrels, toasted prior to charring, and with toasted heads to provide lignin, caramel, and vanilla flavors.
We age the barrels in our Chai / Cellar at our distillery in West Baden, Indiana. Our facilities allow us to maintain temperatures that are substantially lower than a traditional rack-house in order to sustain the volatility of the base grains.
90 Proof
---
APPEARANCE:
Nice medium caramel color for its young age. Almost amber. Heavy legs on the glass.
AROMA:
Sweet caramel and vanilla alongside a sweetened vanilla like grain aroma from wheat and oats. No ethanol burn.
TASTE:
Sweet entry, almost like light vanilla cake frosting. Big thick, creamy mouth-feel. Barrel tannins are well balanced throughout, finished with a punch of caramel. Sweetness lingers and the oats perceptible on the finish, providing excellent balance.
---
AWARDS:
Silver
2018 Denver International Spirits Competion
2019 Denver International Spirits Competition
2019 North American Bourbon & Whiskey Competition
---
THE WHEATER
A blend of 7 year old wheated merchant Bourbon and 2 year old wheated bourbon of our own making. Our whiskey is distilled at 85-90 degrees Fahrenheit over a four day period using two unique yeast strains; one to bring out the grain profile in the resultant beer and the other to bring fuity esters to the forefront for distillation. A proportion of caramel malt is added to increase the aromatics of the finished whiskey. The mash is then double pot distilled where tight heads and tails cuts are subsequently made along with an initial foreshot cut.
The spirit enters the maturation process at 105 proof into a number 2 char, toasted head, 53 gallon, Kelvin Cooperage New American Oak Barrel. The whiskey is subsequently aged until it reaches maturation in our barrel Chai / Cellar. The merchant barrels are hand selected to fit our profile and are aged in our Chai / Cellar an additional two years after purchase. Each merchant blend is graded and married with our existing wheated stock in a stainless steel tank where we aerate to further marry the two spirits and gradually proof down to prevent saponification.
90 Proof
---
APPEARANCE:
Rich mahogany, heavy legs on the glass.
AROMA:
Deep and rich aroma full of vanilla and baking spices. No ethanol burn. Caramelized vanilla.
TASTE:
Sweet on entry with lots of vanilla cake frosting, as well as a full bodied creamy mouth feel. Spicy on the back of the pallet. Finish is sweet and well balanced with oak tannin. Lingering caramel, vanilla and nutmeg.
---
AWARDS:
Silver
2018 North American Bourbon & Whiskey Competition
---
WHITE BOURBON
This white whiskey is made using 100% Indiana grown corn. It is fermented using superior wine/brandy yeasts at colder temperatures than most "white dog" or "moonshine" whiskeys. This brings out and highlights the sweeter, fruitier, nuances of the raw grain material. It is double distilled in our two pot stills and we make very precise cuts between heads, hearts, and tails. These cuts are made to create an immensely drinkable product more akin to a fine European fruit Eau-De-Vie.
98 Proof
---
APPEARANCE:
Crystal clear, viscous and leggy.
AROMA:
Surprisingly floral and fresh. The oats are way up front, soft, sweet and almost vanilla. Very approachable and lures you in, entirely different from moonshines and other "white dogs" on the market.
FRONT:
Immediate oat meal notes with hints of butterscotch and vanilla
MID:
Spreads across the palate for full mouthfeel, velvety, sweet and very creamy. A slight earthy complexity comes forward from the wheat to provide some contrast and constraint to the sweetness with a tiny bit of heat / cinnamon that dances on the top of the tongue.
BACK:
An almost dark chocolate / slightly tannic note makes its appearance along with a bit of peach. Sweet and buttery with only faint heat. Gorgeous oat flavor stands up through and through.
FINISH:
Long and silky, hangs around leaving the impression of grandma's snickerdoodle cookies. Butterscotch, cinnamon, and vanilla all make appearances and beckon to revisit the glass once more.
Please follow and like us: