Stumpy's Spirits
Facebook
Instagram
From their website:

From fresh limestone well water to grain grown on the land surrounding the distillery, we source nearly all of our ingredients from our 8th generation family farm in Columbia, Illinois. Having full control over the grain we grow allows us to do what others can't. We plant, harvest, mill, mash, ferment, and distill our spirits from grain to glass. This ensures that our products remain pure and Unbroken from start to finish. Know that when you enjoy any of Stumpy's products, you are experiencing small-batch spirits at their finest.


Old Monroe Single Barrel Select
Bourbon Whiskey (90 Proof)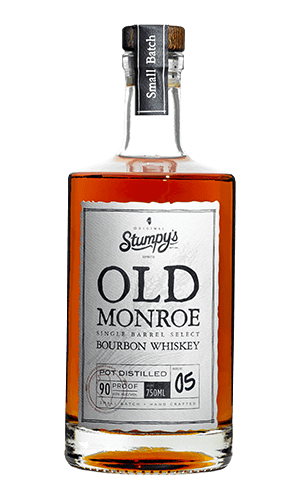 Old Monroe Single Barrel Bourbon is crafted from our signature blend of corn, winter wheat, and barley malt and aged in charred Missouri oak barrels. We only use grain grown on our 8th generation family farm in Columbia, IL and fresh limestone well water to ensure we produce the highest quality spirit possible. Each barrel is individually tasted and selected for bottling to make sure only the best bourbon makes it into each bottle.
Tasting Notes: Rich caramel and vanilla, toasted oak, mellow and round with a long finish.
---
Old Monroe Distiller's Select Whiskey (Proof Varies)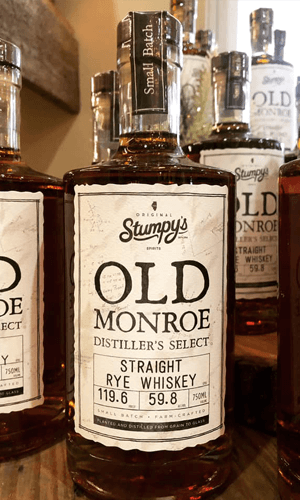 Old Monroe Distiller's Select is your way to tap directly into our rick house. These barrels are incredibly limited and are the best of the best. Barrels for this program are hand-selected by our team and retail partners wishing to purchase an exclusive barrel of whiskey. Below is a list of our current Distiller's Select barrels in the market!
Total Wine Fairview Heights Rye Whiskey – This was a low entry proof rye whiskey that drinks like an archeological dig! It has layers and layers of flavor. At barrel proof, this whiskey is only 103.1 proof. The mash bill was 100% rye and is SURPRISINGLY fruity for a rye whiskey…it almost exhibits some characteristics of a brandy. This was the first barrel selection by Heidi and the team at Total Wine for their new store. Make sure to pick up a bottle at Total Wine Fairview Heights before they are gone!
Stubborn German BWS Rye Whiskey – This is one of Adam's favorite barrels he's ever made. The recipe pre-dates Prohibition and cosists of rye, malted rye, and malted barley. This rye whiskey clocks in at 119.6 proof and is incredibly complex with a nice long finish. Be careful with this bottle…it doesn't drink like it's 119.6 proof! Available by the bottle at the distillery while supplies last and by the drink at Stubborn German Brewing in Waterloo, IL.
Please follow and like us: